Image
45+ Years Of Expert Lawn Care Services
Lawn Care in Bowling Green
In a city known for its prestigious college, we know its residents and business are smart about lawn care opportunities. With Land-Art, we are confident you will receive top-quality lawn care that includes weed control, fertilization, aeration, mosquito control, and much more. Our lawn care company is so confident that you will be satisfied and that's why we offer a 100% satisfaction guarantee with our services.
Get an Instant, Online Quote
Image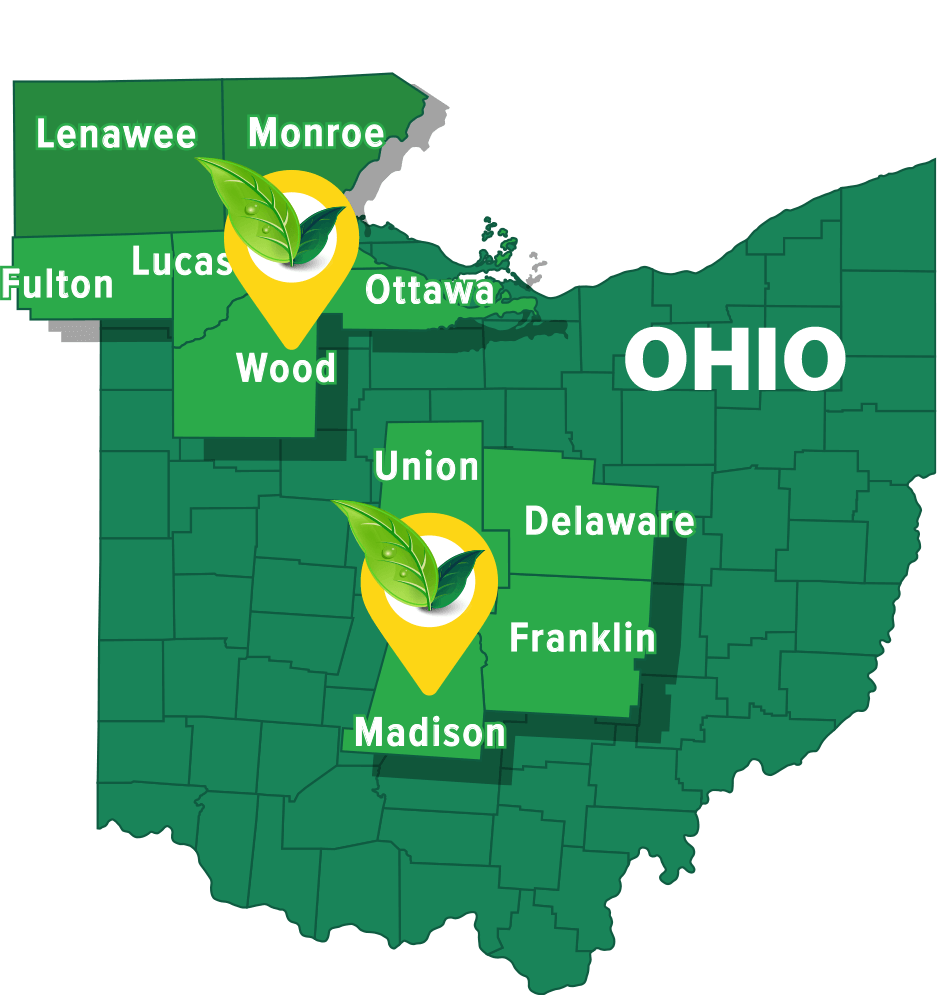 Bowling Green Lawn Care You Can Count On
At Land-Art, we have 45 years of experience creating natural landscapes for the residents and businesses of Bowling Green. Maintaining a healthy green yard and attractive property takes valuable time and precious energy, free-time many of us don't have. That's where the professionals at Land-Art come in with expert lawn care in Bowling Green. Allow us to provide you with a durable, weed-free yard through our comprehensive 5-step program. Starting in the Spring and running through the Fall, our lawn care technicians will visit your property every five to eight weeks. These visits include: 
Slow-release granular fertilizer that

nourishes your grass consistently over time.

Prevention and control

of hard-to-treat crabgrass.

Liquid herbicide

to control challenging broadleaf weeds.

Inspections conducted throughout the season

for lawn surface insects. 

Disease prevention

and management. 

A lawn care company dedicated to providing you with

top-quality service!
Weed Control in Bowling Green
Does anyone really like the sight of weeds in their yard? These annoying eyesores are the bane of every property owner's existence. Land-Art understands this and knows how challenging it can be. Through experience, we have discovered that prevention is the best way to combat these tricky yard invaders. We offer weed control in Bowling Green through our 6-step lawn care program, starting with pre-emergents in the spring. From there, we include the following:
Pre-emergent for the

prevention of troublesome crabgrass. 

Broadleaf and post-emergent weed control for

sedge, spurge, thistle, chickweed, and other bothersome weeds.

Season-long treatment

to ensure a weed-free yard all summer long.

Local, expert lawn care technicians who are

knowledgeable and dedicated.

Weed-free turf with complimentary service calls between scheduled visits. 
Aeration and Seeding in Bowling Green
A beautiful, healthy lawn doesn't just stop with fertilizer and control of weeds. Here in Ohio, where we experience mild, humid summers and cold, snowy winters, climate stressors can take a toll on your grass. Sometimes even the most well-maintained lawns require additional upkeep, including lawn aeration and grass seeding. Land-Art uses a machine that punches hundreds of tiny holes in your turf, pulling up plugs of dirt. These holes allow sunlight, water, oxygen, and fertilizer to permeate through. Other advantages of our lawn aeration and seeding in Bowling Green include: 
Stronger, healthier roots that grow deeper.

Reduction in soil compaction

allowing critical nutrients, sunlight, water, and oxygen to get through.

Decrease in thatch build-up. 

Reduction in turf disease and fungi. 

Less chance of pest infestations.

Reduction in erosion

, keeping nutrients in place.
Tree and Shrub Care in Bowling Green
Bowling Green is home to a multitude of deciduous and evergreen trees. It is also home to a variety of diseases and insects just waiting to destroy the beauty of these elegant lawn pieces. Land-Art understands just how important these pieces of nature on your property are and has designed a tree and shrub care program specifically to protect and maintain them. Our tree service in Bowling Green is a 4-step process created to conserve and restore your tree's health and longevity. 
When you invest in tree and shrub care with Land-Art, rest assured you will receive:
Foliar feedings introduce fertilizer directly to your plant's leaves for

faster absorption.

Insect and disease prevention and control.

Fungicide prevention.

A fall/winter feeding to

strengthen roots and prepare vegetation

for winter. 

Over 45 years of family-owned, local experience.
Optional Tree Services We Provide:
A high-pressure injection of fertilizer mixed with nutrients, water, and insecticides shot directly into the plant's roots. Known as deep-root fertilization, this process helps eliminate competition from other plants and ensures year-round growth.
Outdoor Pest Control in Bowling Green
At Land-Art, we make it our goal to create natural landscapes and outdoor staycations. This means eliminating the threat of nagging insects and harmful disease-carrying pests. With Land- Art by your side, you no longer have to worry about outdoor events being ruined by pesky bugs. Our insect control in Bowling Green will protect your family and pets from the wrath of insects, including:
Fleas

Ticks

Stinkbugs

Boxelder bugs

Spiders

And More!
With our lawn pest control, the technicians at Land-Art will apply a protective barrier around your property that will deter these insects from not only navigating around your yard, but from getting inside your home. We offer re-applications throughout the season, so make sure to keep these insects away for good!
Mosquito Control in Bowling Green
Get ready to say goodbye to mosquitoes with our expert mosquito control services in Bowling Green. We start with a free and thorough inspection to assess your specific needs and create a customized plan.
Trust Our Mosquito Protection
We also offer mosquito traps for added protection, and with our satisfaction guarantee and free re-treatments if bugs return, you can trust us to get the job done right. Don't let mosquitoes ruin your outdoor fun – choose our mosquito treatment and prevention services to enjoy a worry-free summer.
Safe Protection 100% Guaranteed
At Land-Art, our 4 applications start in the Spring and end in the Fall. We treat your entire property and outside perimeters monthly. When you trust our technicians for lawn care in Bowling Green, each application assures you will receive:
30-day protection from harmful bacteria and diseases harbored by pesky insects.

Certified, licensed technicians with knowledge of local pests.

Use of only safe, EPA-approved products.

100% retreat guarantee!
Looking for Lawn Care around Bowling Green?
We also offer lawn care services in Toledo, OH!