Image
Expert Lawn Care in Dublin, OH!
Lawn Care in Dublin, OH
Land-Art started in 1974 with the mission to provide advanced lawn care at affordable prices. During the course of over 45 years in business, we've kept up with the latest in lawn care solutions and held ourselves to the highest standard of customer service. When you trust Land-Art with lawn care in Dublin, you can rest assured your yard is in good hands. Whether you need weed control, aeration, or fertilization, we have the technicians on hand to take care of the job for you.
Get an Instant, Online Quote
Image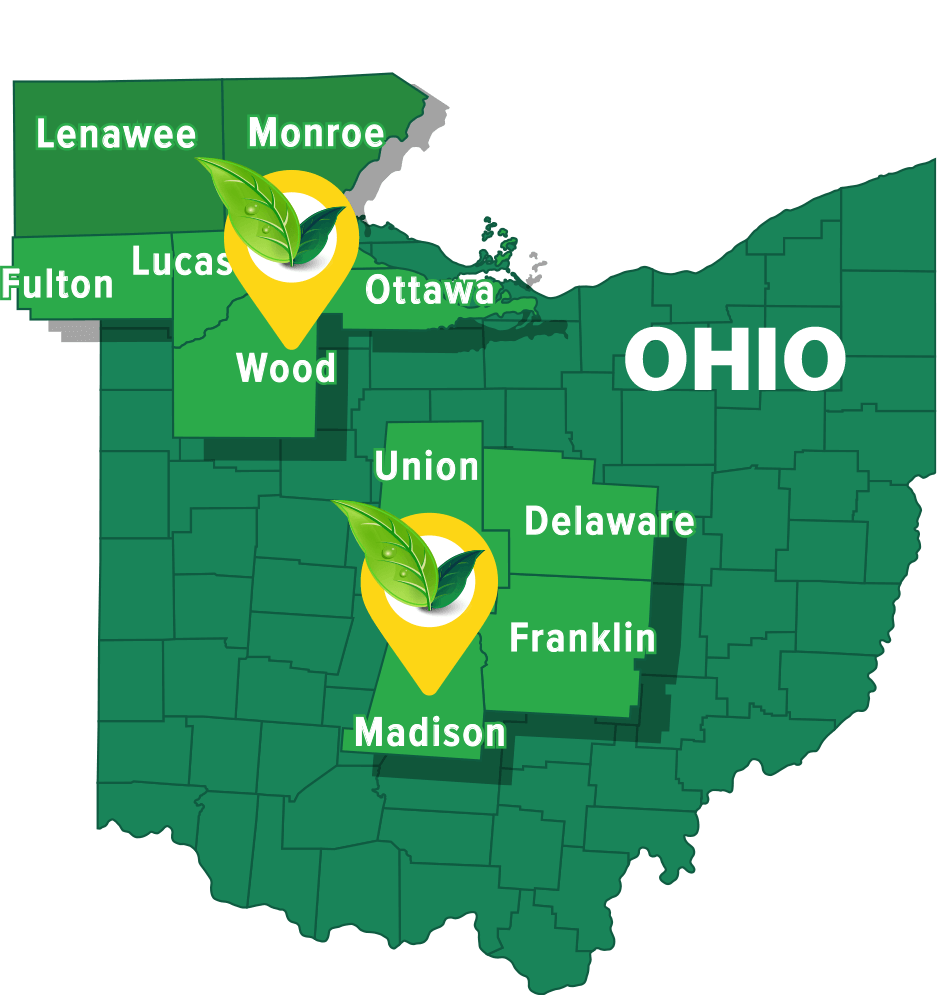 Lawn Care That Improves Your Curb Appeal
We know that no two yards are alike. That's why our flagship programs at Land-Art are designed for the Ohio climate and then customized to your lawn's specific needs to optimize the results of every treatment. When you choose Land-Art for personalized lawn care in Dublin, you can expect:
A free, no-obligation yard assessment

from our expert lawn technicians.

Slow-release granular fertilizer

regularly applied to keep grass nourished and green.

Pre-emergent crabgrass control

that gets ahead of weeds.

Spot treatments

for broadleaf and annual weeds like sedge.

Inspection for pests

at every visit and treatment if necessary.

Winterization

to make sure your turf emerges healthy in the spring.

Add-on options

from our comprehensive menu of services.
Sit back and let Land-Art protect your yard year-round so that you can enjoy your outdoor space without stress!
Weed Control in Dublin, OH
At first glance, weed control seems like a struggle that never ends. No matter the time or temperature, there are weeds that will find a way to disrupt your landscape and take resources away from your grass. At Land-Art, we offer weed control in Dublin that starts early and lasts all season long so that the struggle with weeds ends with us.
Our weed control routine is designed for the most disruptive weeds and includes:
Combination with our fertilizer services

for grass that outcompetes invaders.

Pre-emergent treatments each spring

that are formulated to last.

Treatment all season long

for crabgrass, broadleaf, sedge, and more.

A weed-free yard

backed by our satisfaction guarantee!
If you're tired of fighting weeds non-stop, trust a lawn care company such as Land-Art and we'll discuss your options for weed control in Dublin. Make sure to check out our special offers and see how you can save money today!
Aeration & Seeding in Dublin, OH
At Land-Art, we fully believe in landscapes that are both beautiful and useful. Over time, as you use your yard it may begin to lose its luster without regular care. You may notice common paths wearing down or yellow thatch growing where fresh grass once was. These are signs it's time for Land-Art's lawn aeration and seeding treatment in Dublin. The soil in your yard becomes compacted over time with regular use and erosion. When soil is compacted, grass roots are restricted and have trouble accessing water, air, and essential nutrients. When you call Land-Art for lawn aeration, we'll use a machine to pull cores of soil. This allows for soil to relax and expand, and gives grassroots much easier access to essential resources and seed.
In fact, we follow up aeration with overseeding while the soil is most receptive. This promotes new, fresh growth and a diversity of grass types that improves disease resistance. Other benefits of lawn aeration in Dublin include:
Less water pooling

as soil is more absorbent

Softer, thicker grass

that's stronger than ever.

Breakdown of thatch

as soil cores degrade

Visible results within weeks

of treatment as vibrancy is restored.
Outdoor Pest Control in Dublin
Your lawn is an investment in your home and even your neighborhood. You should be able to enjoy your yard without worrying about the safety and comfort of family, pets, and guests. That's why at Land-Art, we also offer outdoor pest control in Dublin. Our insect control program is designed to protect your entire property so that you can use your yard in peace. A dedicated Land-Art technician will apply a barrier around your house and your property that will repel insects from not only your yard, but from entering your home. We also do follow-up applications that keep the barrier as strong as possible all season long.
Grub Control in Dublin
Grubs are the larvae of prolific June bugs that emerge in Dublin during the Spring and Summer. They may be young, but grubs can destroy your lawn from the inside out thanks to their appetite for grass roots. Additionally, you may notice critters that like to dig for grubs, such as moles, skunks, opossums, and birds. The best form of grub control is prevention, so at Land-Art we use a one-time application that provides year long protection. If you are already experiencing a grub infestation, our highly-trained team can usually treat within a few working days, and then work out a schedule for annual treatment in the future.
Mosquito Control in Dublin, OH
When it comes to mosquito removal in Dublin, trust the experts at Land-Art. Our team uses EPA-approved liquid sprays and targeted larvicides to eliminate mosquitoes at every stage of their life cycle. Plus, all our services come with a 100% satisfaction guarantee. Say goodbye to annoying mosquitoes and take back your yard with Land-Art's mosquito control in Dublin today!
Highly Trained Mosquito Exterminators
At Land-Art, we pride ourselves in employing highly trained and experienced mosquito exterminators. Our team of professionals are knowledgeable in the latest pest control techniques and have extensive experience with a wide variety of treatment plans. We understand that no two yards are exactly alike, so our exterminators will conduct a comprehensive inspection of your property to determine the root cause so that we can make sure to get rid of your mosquito infestation.
Family-Oriented Customer Service
As a family-owned business, we are proud to share top-tier lawn care solutions from our family to yours. All of our technicians are certified and continuously trained so that you can trust you're receiving the best care in the business. During our decades in this industry, we've always prioritized customer service because you and your family deserve the best. We believe that excellent lawn care in Dublin doesn't need to be complicated, so there are free complimentary service calls whenever you need it. 
There is also no charge for service calls to address your questions and concerns, which our technicians are happy to resolve. Just like we treat each yard individually, our customers are never a number. All of our services are backed by a satisfaction guarantee directly from the company owners: if you're dissatisfied with our service, we'll do what it takes to make things right with no extra charge. When you choose Land-Art, you're choosing experienced experts who will give your lawn the attention it needs with service that goes above and beyond.
Looking for Lawn Care around Dublin?
We also offer lawn care services in Plain City, OH!