Image
Expert Lawn Services in Lewis Center
Lawn Care in Lewis Center
At Land-Art, we've been providing customized lawn care to central Ohio since 1974. We're familiar with the challenges of lawn care in Lewis Center and we've got the treatments needed to overcome what your lawn faces throughout the year. Whether it's fertilization, aeration, weed control, or everything in between, Land Art has everything you need to boost your curb appeal!
Get an Instant, Online Quote
Image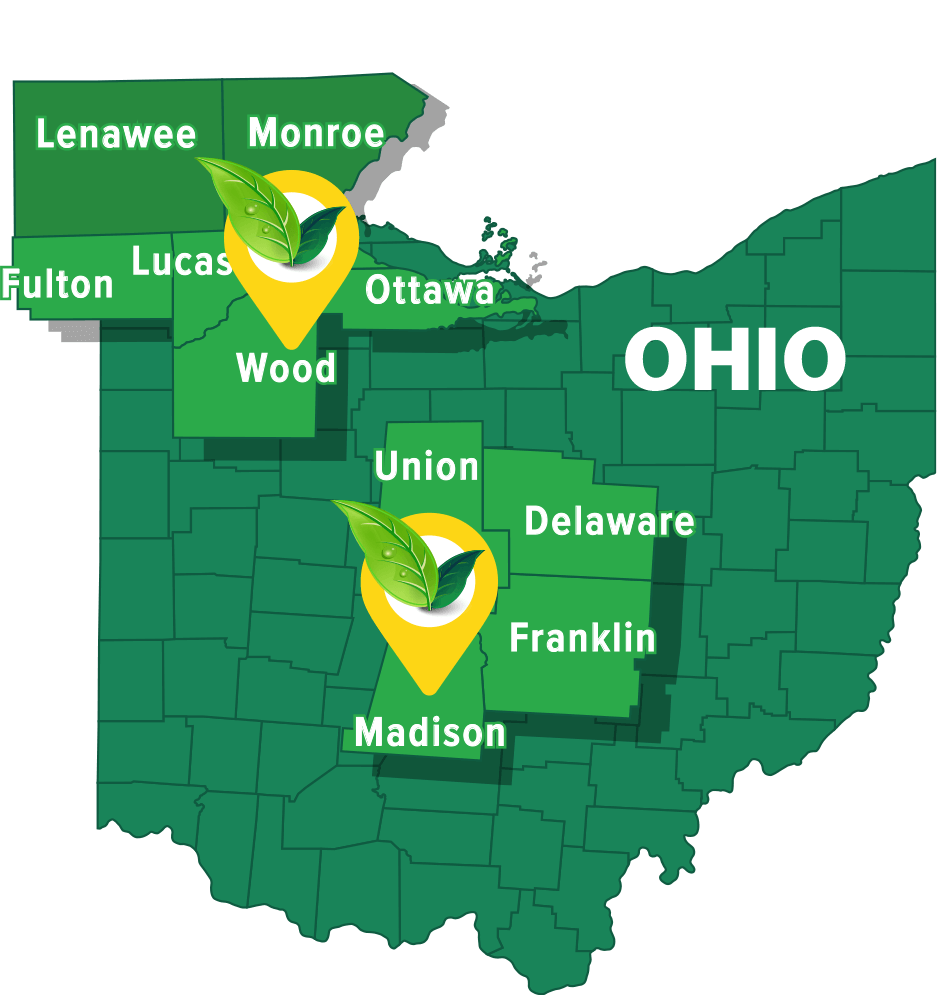 The Land Art Solution in Lewis Center
Our lawn care program consists of six applications that are six to seven weeks apart to provide consistent results. When you trust our continuously-trained technicians for expert lawn care in Lewis Center, you can expect the following: 
A free lawn analysis

with no obligation to buy anything.

Slow-release fertilizer applications

to keep grass healthy all year long.

Pre-emergent crabgrass control

in the spring.

Liquid spot treatments

for annual weeds like broadleaf.

Winterization with granular fertilizer

for healthy growth when spring comes.

Add-on options

for grub control, aeration, insect control and fungicide.
Your Satisfaction Guaranteed
As a family-owned business, we believe customer service is based on lasting relationships with our local community. When you choose Land-Art, you can count on no charge for service calls regarding your questions and concerns. Our satisfaction guarantee comes straight from the owners of Land-Art who attest that if you're not satisfied with our work, we'll do what we can to make it right free of charge.
Weed Control in Lewis Center
Weeds are one of the most persistent lawn care concerns. The truth of the matter is that they're not just unpleasant to look at, but also crowd out grass roots and steal valuable natural resources from your turf. Unfortunately, pulling weeds is only a temporary fix. Contact our expert team at Land-Art for weed control that lasts! After 48 years in business, our knowledgeable Land-Art technicians are familiar with the recipe for effective weed control in Lewis Center. Our treatments are applied all season long for optimum weed eradication. Land-Art's weed control regimen includes:
Incorporation with our fertilizer treatments

for complete care.

Pre-emergent control

formulated to last longer that is applied every spring.

Post-emergent spot treatment

to eradicate crabgrass and yellow nutsedge.

Follow up visits throughout the season

for comprehensive treatment that lasts.
Aeration & Seeding in Lewis Center
Owning a yard gives you a place to spend time with friends and family, run around with your pets, or use more space for the activities that bring you joy. Over time, a well-used lawn can fall victim to compaction as soil becomes hardened and common pathways wear away. Meanwhile, beneath the surface the roots of your grass are suffocated as they struggle to access water and vital nutrients. Then, your grass may start to look lackluster and thatch will start to build up. Fortunately, core aeration and seeding from Land-Art can bring your lawn back to life. 
Land-Art's experienced technicians will aerate your lawn by mechanically pulling plugs of soil. The holes that this leaves behind give soil space to disperse and create easier access to water, fertilizer and seed while your grass renews. That's why aeration is followed by overseeding to promote healthy new growth. Benefits of our lawn aeration and seeding in Lewis Center include:
Relief from compaction.

Thicker, more robust turf.

Less water pooling and runoff.

More disease-resistant grass.

Quick, visible results.
Outdoor Pest Control in Lewis Center
At Land-Art, we're well acquainted with the pests that can wreak havoc on your lawn. We understand lawn pest control is an important part of keeping your grass happy and healthy, so we're proud to offer outdoor pest control in Lewis Center to make sure any insect is stopped in its tracks when trying to enter your home.
Grub Control
Grubs may simply be the larvae of June bugs, but they are the most destructive of lawn pests. They feed on grass roots and attract other digging critters like moles, birds, skunks, and opossums. If you notice more of those creatures in your yard, or your grass is rolling up like a carpet, you may benefit from grub control in Lewis Center. 
Our grub control treatment is applied annually to prevent grub infestations in the first place. If you're already experiencing a proliferation of grubs, we will apply treatment right away and schedule regular treatments. Our technicians are always attentive and will notify you if they see signs you may need to add grub control to your lawn care regimen. Get ahead of grubs and save your turf by scheduling your no-obligation inspection from Land-Art.
Perimeter Pest Control
Are insects making it difficult to enjoy your lawn? Our well-trained Land-Art exterminators are equipped to provide perimeter pest control in Lewis Center for lasting protection. They will apply a barrier around your property and space out visits over the most active pest season so that you and your family have consistent defense from obnoxious critters.
Mosquito Control in Lewis Center
Land-Art offers mosquito control services in Lewis Center, which can help eliminate mosquitoes and allow residents to enjoy their yards without interruption. When you trust our team with mosquito removal in your yard, you will get:
A comprehensive, free inspection to determine where mosquitoes are breeding.

Expert mosquito control technicians that will use the most up-to-date technology to make sure your pests are removed.

100% satisfaction guarantee, if pests return then so do we!
Eco-Friendly Mosquito Treatments
Not only do we provide effective mosquito treatments but they are also safe for the environment. Our EPA-approved formulas use only the safest and most effective ingredients, meaning you can rest assured knowing your family is safe from harmful pesticides.
Dependable & Hassle-Free Service
At Land-Art, we're focused on giving you the best service possible to your Florida or Ohio home. Getting effective care for your lawn shouldn't be a hassle, so we keep it simple with free complimentary service calls. Our satisfaction guarantee comes directly from the company owners, who will work with you if you're ever displeased with our service.
Looking for Lawn Care around Lewis Center?
We also offer lawn care services in Plain City, OH!