Plain City's Exceptional Lawn Care Provider since 1974
The Best Lawn Care Services in Plain City
Locally and family-owned, Land-Art has been creating masterpiece landscapes and providing high-quality lawn care in Plain City for over 45 years. With an outstanding reputation and a dedicated personal commitment, we want your family to enjoy your outdoor space the way our family has always enjoyed ours. 
Get an Instant, Online Quote
Image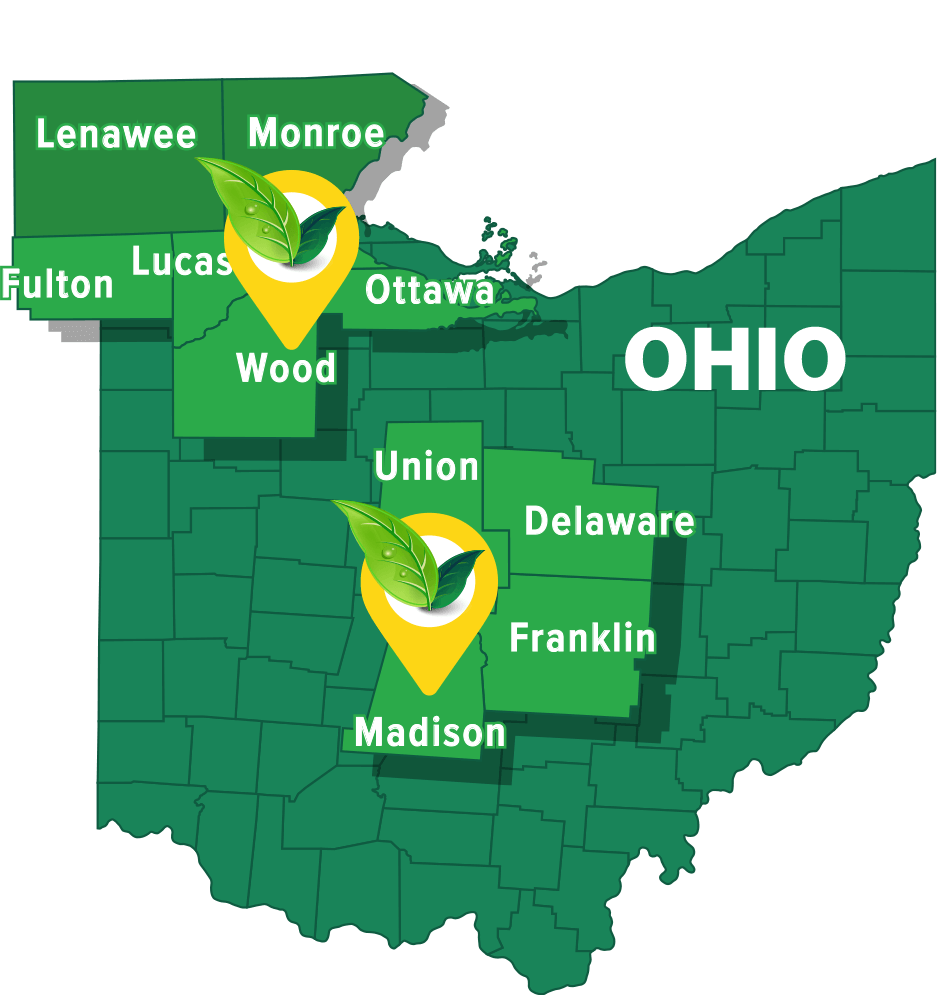 Why Land-Art is a Trusted Lawn Care Company
With over 4 decades of experience, we have been providing quality lawn services for the residents and businesses of this village for a long time. We know how hard and time-consuming it can be to maintain your yard and keep it healthy and attractive year-round. That's why we developed a comprehensive 6-application lawn fertilization and weed control program. With time applications spaced out approximately 6 - 7 weeks apart, it was designed with our local climate in mind. Our lawn care in Plain City includes the following:
Pre-emergent

crabgrass control to help put this yard invader directly in its place.

Slow-release fertilizer

to increase the health and strength of your turf.

Spot treatmen

t of hard-to-control broadleaf and annual weeds.

Seasonal

insect and disease inspections.

Insect and disease

treatment and prevention.

The dedication and backing of an

experienced lawn care company

. 

Free Lawn Consultations!
Weed Control in Plain City
Nothing can put a damper on a thick green lawn more than a few unsightly weeds. These opportunistic lawn invaders want nothing more than to rob your turf of its nutrients, sunlight, and oxygen. Unfortunately, many have become immune to herbicides and weed management practices finding new ways to wreak havoc on our grass. At Land-Art, our weed control in Plain City won't let them ruin your curb appeal. We know that the best way to combat this obnoxious greenery is through prevention. That's why our highly effective weed control keeps them at bay all season long. When you invest in weed prevention and removal with Land-Art, you receive the following:
Weeds stopped in their tracks with

preventive pre-emergent.

Liquid broadleaf herbicide

to help manage hard-to-control weeds such as crabgrass, sedge, and dollar weed.

Personalized attention

from our dedicated team of lawn care technicians.

100% guarantee

on weed control and all of our services!
Aeration and Seeding in Plain City
Excess thatch and soil compaction can cause a lot of damage to your yard. When soil is compacted, it prevents water, sunlight, oxygen, and nutrients from getting through, suffocating your roots. Weakened roots can cause your turf to become withered, look stressed, turn brown or die off. Signs your grass is in need of lawn aeration in Plain City include:
Spongy turf

, especially when walked upon.

Compacted soil.

Excess thatch.

Pooling water

on top of your lawn.

Bare, thin, or patchy areas.
We can eliminate thatch, loosen your soil and get you back to a healthy, vibrant turf with our aeration and seeding process. Offering tremendous benefits, Land-Arts lawn aeration and grass seeding in Plain City will provide:
A more robust, healthier root zone.

A reduction in disease and insect infestations.

Less pooling of water and runoff.

More nutrient intake.

An overall healthier, more sustainable lawn!
Outdoor Pest Control in Plain City
Located directly adjacent to the Big Darby scenic river filled with heavily wooded areas and vast amounts of vegetation, it's no wonder Plain City is full of biting, stinging, and flying insects. So how can you keep your family and pets safe from the wrath of these parasitic creatures and the harmful diseases and bacteria they carry? With Land-Art's highly impactful insect control in Plain City! Our seasonal outdoor pest control is a liquid barrier applied around the foundation of your home, targeting those areas where insects live and breed. When you invest in Land-Art's outdoor pest control services, you can expect: 
Four applications spread approximately

30 - 35 days apart.

Only

licensed and certified technicians

with vast knowledge of insect control.

Season-long protection. 

Use of

EPA-approved products

only.

Retreatments

as needed.

Addressing your concerns whenever with complimentary phone calls. 
Mosquito Control in Plain City
It's happened to us all at some point or another: you step out into your yard, only to be chased right back indoors by hungry mosquitoes. It's a frustrating, discouraging, and perhaps even dangerous experience that you simply shouldn't have to go through. With our mosquito control in Plain City however, you can finally get the lasting relief that you need! Our technicians will work tirelessly in your yard to get rid of mosquitoes, prevent them from returning, and deliver the safe, comfortable outdoor space that you deserve. So don't let bloodsucking bugs get comfortable in your yard and sign up today to receive: 
A comprehensive inspection

of your yard and the surrounding area. 

A custom-designed mosquito prevention and control plan

that we build around your specific needs.

Protection from mosquito-borne diseases

like West Nile Virus, Zika, and Malaria.

Contract-free service

which helps you maintain your flexibility.

Eco-friendly treatments

with EPA-approved products. 

And much more!

 
Remarkable Lawn Care Risk-Free
At Land-Art, we start with a no-obligation, risk-free lawn evaluation. Unlike our competitors, we provide quality lawn care in Plain City with complimentary service calls when you need it most. We believe in building long-lasting customer relationships that involve trust and integrity. And we are so confident that you will be happy with our services, we offer a 100% satisfaction guarantee. Call us today and find out what an amazing yard can do for you.
Looking for Lawn Care Services Outside of Plain City?
We also offer lawn care in the following cities around Plain City, OH: