Image
Free Expert Lawn Assessments in Perrysburg!
Lawn Care in Perrysburg
A yard is an investment that deserves just as much care as the rest of your home. For many property owners, lawn care becomes another chore. Instead of being haunted by another item on your to-do list, let the experts at Land-Art take the reins for a yard you can be proud of. Land Art was founded in 1974 with the mission to provide high-quality, custom lawn care at affordable prices. Whether you're looking for a landscape straight from a magazine cover, or a healthy turf for your kids to run and play, Land-Art has the services that will keep your yard happy and healthy year after year.
Get an Instant, Online Quote
Image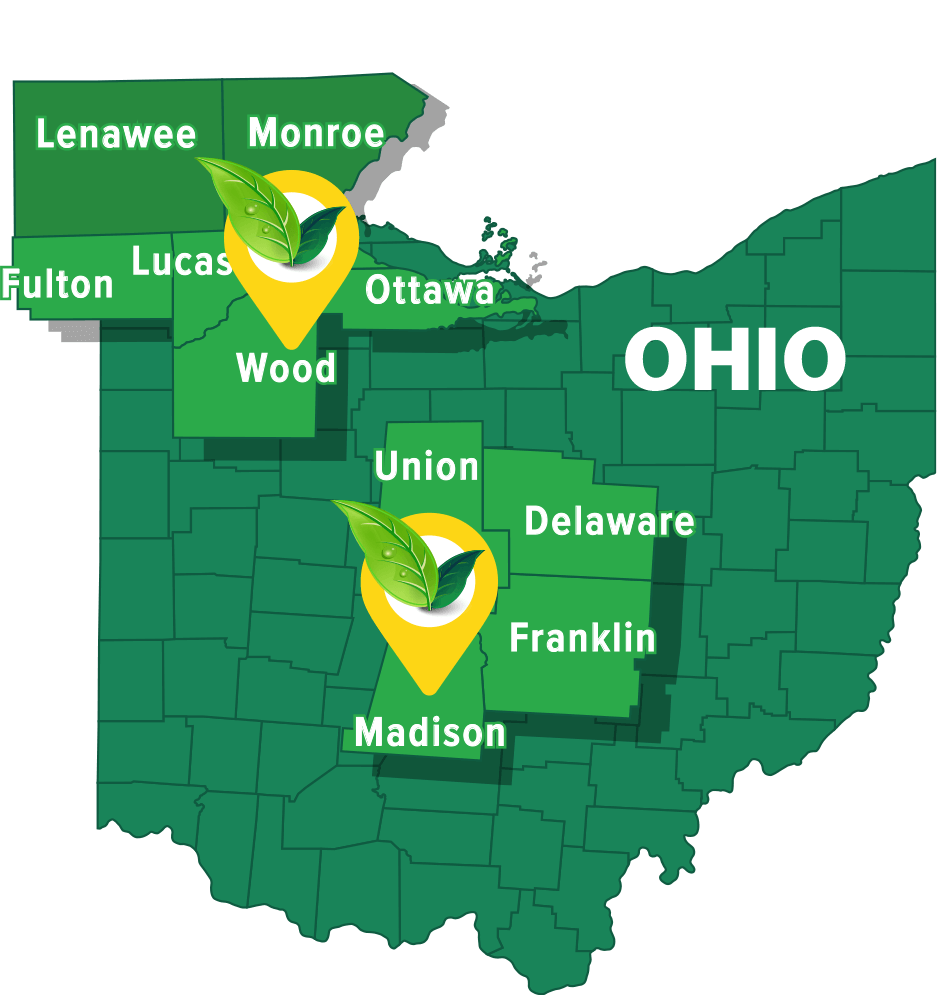 Professional Services With Long Lasting Results
Our comprehensive lawn care plans are specially designed for the Ohio climate to directly address the challenges that come with lawn care in Perrysburg. All of our services start with a free, no obligation inspection from our highly-trained technicians so that you get suggestions customized to your yard's unique needs and features. 
From there, when you choose a lawn care company such as Land-Art, you can expect:
Slow-release fertilizer

applied regularly to keep grass well-nourished.

Liquid broadleaf control

in the spring and summer.

Pest monitoring throughout the year

so that we can treat it if necessary.

Winterization

for strong grass roots and healthy emergence in the spring.

Add-on options

from our extensive menu of additional services.
Our attentive technicians will always let you know if they notice issues during the course of regular care. With lawn care in Perrysburg at Land-Art, you can trust that we're looking out for your yard and putting your satisfaction first every step of the way. Look into 25% off winterization today!
Over 45 Years of Outstanding Service
We've been in the lawn care business for over 45 years, so getting to know our customers and their needs when it comes to lawn care in Perrysburg is our top priority. All along the way, we've kept an eye out for the latest technology and quality products to make sure our clients are getting the best possible service. We believe our customers deserve the best and we've kept that a priority for over four decades. As a local family owned business, we understand the trust you place in us by choosing our lawn care services. All of our technicians are state certified and go through ongoing training that lasts all year long so you can be confident that they've got what it takes to care for your yard like it's their own. At Land-Art, you can trust that you're not just a number. 
Weed Control in Perrysburg
When it comes to lawn care, weeds are one of the most common and most frustrating problems. Since different weeds have different weather and moisture preferences, you can find yourself fighting with these plants all year long. If you're looking for back-up against these resource hogs, call Land-Art for reliable weed control in Perrysburg. Land-Art provides solutions that are designed to last. Our technicians start early and keep it going all season long for defense you can depend on. Our weed control regimen for Perrysburg includes:
Integration with our fertilizer treatments

for grass that can out-compete weeds.

Pre-emergent

weed control to get ahead of invaders like crabgrass.

Ongoing active treatments for weeds like

broadleaf, sedge, clover, and more.

Eradication of weeds

for a picture-worthy yard!
Weeds are a fact of life, but that doesn't mean you have to put up with them. Call Land-Art today and rest easy while we get rid of weeds for you.
Aeration and Seeding in Perrysburg
When you invest in your turf, you should be able to enjoy not only its beauty, but its health that can withstand foot-traffic and day to day activities. And any well-loved yard gets worn down after a while. You may notice the ground getting hard, thatch building up, or common pathways wearing away. If your lawn is looking past its prime, call Land-Art for aeration and seeding in Perrysburg. Our lawn aeration treatment starts with pulling up cores of soil from your turf. The holes this leaves behind allow compacted soil to loosen and grass roots more room to access water, air, and essential nutrients. Then, we follow up by overseeding with quality grass seed to refresh your turf while it's extra receptive.
Some of the incredible benefits of lawn aeration and seeding in Perrysburg are:
Relieving compacted soil

Less water pooling or runoff

Better results from fertilizer

More disease-resistant turf

Thicker, lush grass growth

Visible results within weeks of treatment
Tree and Shrub Care in Perrysburg
Trees and shrubs are mainstays of any yard. Perhaps certain trees are how visitors recognize your house, or ornamentals provide shade during harsh summers. These plants give us much more than curb appeal, and proper care is needed to keep them around for the entire family to enjoy. Just like our lawn care, our tree and shrub programs are customized for your location and climate. Treatments focus on protecting these valuable plants from drought stress, disease, and pests. Our tree service in Perrysburg includes:
Foliar fertilizer applied directly to the leaves for

better absorption.

Ongoing insect control

and monitoring to prevent skeletonizing and infestation.

Ornamental feeding in fall and winter

that strengthens roots.

Optional deep-root injection that

promotes year-long growth.
Outdoor Pest Control in Perrysburg
You've put in a lot of time and care to make sure your yard stays at its best, including ensuring the best possible service. Pests have a way of making it really difficult to reap the benefits of your investment. Land-Art offers outdoor pest control in Perrysburg so that you can fully enjoy the yard that you love. Our insect control is preventative around your entire property to ensure the insects are not only gone from your yard, but don't try to sneak inside. Technicians will apply the barrier around your home and property, and then return to reapply throughout the season to ensure you get defense that lasts. We also offer more specific yard pest control based on your location, such as treating for surface feeding insects. Contact us today to explore the lawn pest control options available to you.
Grub Control 
Grubs are the most insidious of lawn pests. They're the larvae of June bugs that emerge every Spring and Summer to feast on grass roots. If your grass is weakened so much that you can pull up the sod, you may have a grub infestation on your hands. Grubs also attract the creatures that find them tasty, so there may also be birds pecking at your grass or small mammals like moles, skunks, or opossums digging holes in your yard. Fortunately, Land-Art has grub control in Perrysburg that keeps these larvae away. The easiest way to prevent grubs is getting ahead of them in the first place, so our preventative grub treatment is applied annually. If there is an active infestation, our skillful team can come treat within a few working days and then follow up with annual treatments.
Lawn Services With A Satisfaction Guarantee
At Land-Art, we believe that top-notch lawn care should include exceptional customer service. We've used our decades of experience to build relationships with our customers, who attest that we deliver consistent results. We also agree that high quality service shouldn't be extra complicated, so when you choose Land Art, there are free complimentary service calls when you need it. We stand behind the quality of our work, which always comes with a satisfaction guarantee from the owners of Land Art. If you're ever displeased with our service, we'll work with you to make things right. You deserve a yard that you're proud of that you can enjoy. If you're ready to get that lawn, contact Land-Art today and we'll help your vision become a reality.
Looking for Lawn Care around Perrysburg?
We also offer lawn care services in Toledo, OH!