Image
45+ Years of Expert Lawn Services in Naples
Lawn Care in Naples
As a family-owned business, at Land-Art we understand the trust you place in us by making us your choice for high-quality lawn care. Customer service has been a priority for us over the past 45 years, and continues to be a hallmark of our company. We believe that our customers deserve the best in the industry without complications, so let Land-Art be the choice for you this season. 
Get an Instant, Online Quote
Image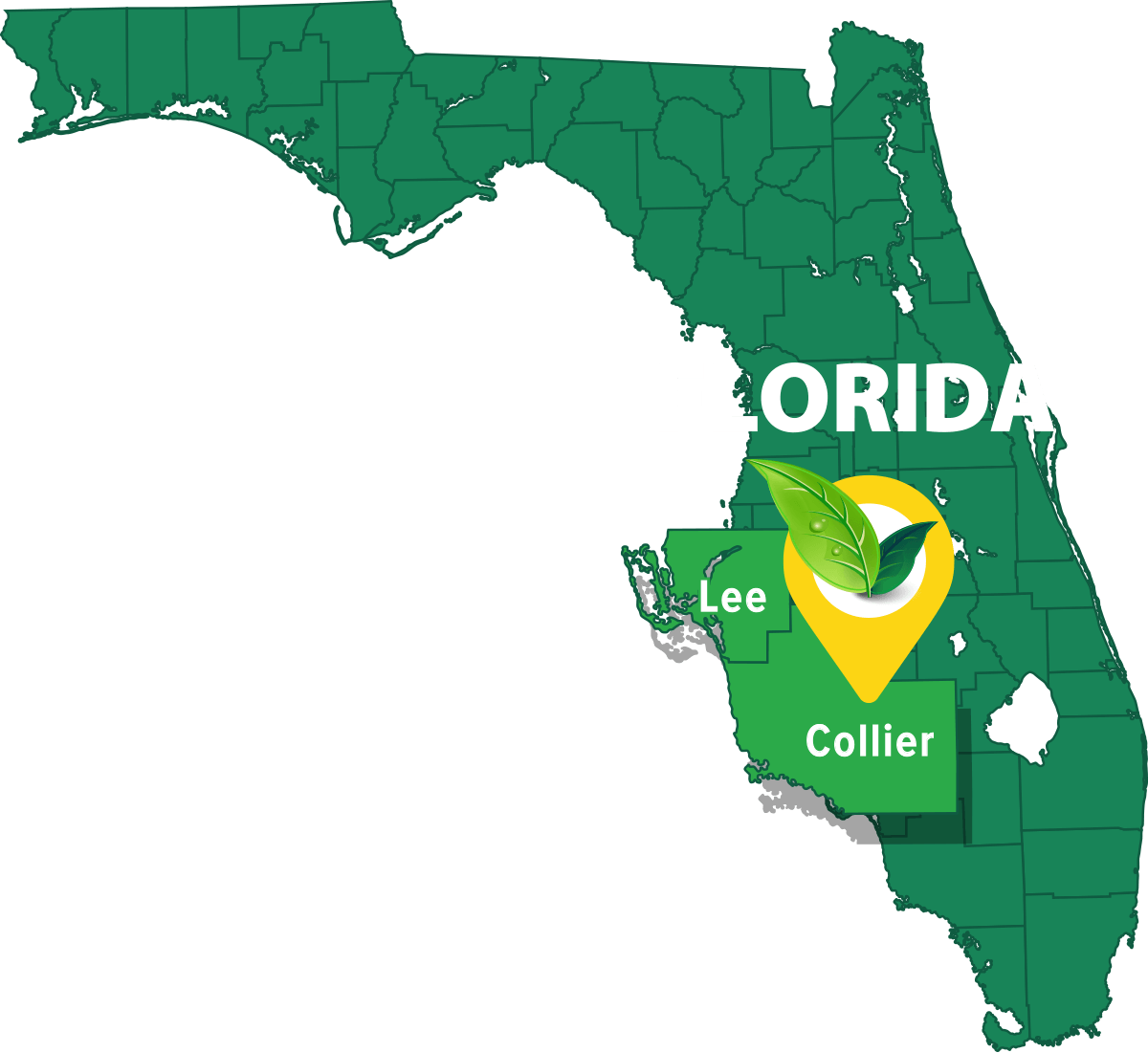 The Land-Art Difference For Florida Lawns
At Land-Art, our lawn care in Naples is designed specifically for yards in the Sunshine State. The subtropical climate of Naples makes it a wonderful place to live with comfortable temperatures most of the year. However, the climate in Florida also requires a different approach to lawn care than other locations. Whether you are in need of weed control, fertilization, tree service, or anything in between, our technicians are ready for the job. Additionally, we use a free, no-obligation expert assessment to customize your lawn care plan according to its unique needs.
When you trust our expert lawn care technicians, you can expect:
Slow-release balanced fertilizer

applied regularly for optimum nutrient balance.

Liquid weed control

as needed to keep invaders at bay.

Integrated pest management

for comprehensive lawn pest control.

Targeted chinch bug treatment

to ensure your grass avoids infestation.

Iron supplements

to boost chlorophyll and enzyme production.

Add-ons available

from our extensive menu of services.
Weed Control in Naples
There are several different kinds of weeds that plague Florida landscapes. Fortunately, with over 45 years of experience, our Land-Art team is familiar with all of them. We don't just fight weeds, we eradicate them with consistent targeted treatment. Our weed control in Naples includes:
Integration with our fertilizer program

for stronger grass that resists weeds.

Pre-emergent treatment

that lasts the entire season.

Follow-up treatments

for crabgrass, sedge, broadleaf, dollar weed, and more.

Atrazine applications

in winter months for both pre and post-emergent coverage.

A weed-free lawn with a satisfaction guarantee!
Common weeds you can expect to see in Florida include:
Bull Thistle

Dandelion

Dallisgrass

Clover

Crabgrass

Chickweed

Goosegrass
Liquid Lawn Aeration in Naples
Climate stressors and excessive use can put a damper on even the healthiest of yards. Over time, debris builds up on top of your turf causing an overabundance of thatch to form. This can compact your soil, compressing and stopping air, water, sunlight and nutrients from passing through to your root zone. When this happens, your roots become weakened, start to suffocate and die. Land-Art's lawn aeration in Naples can help rejuvenate your turf for long lasting appeal. 
Through our highly innovative and effective liquid lawn aeration process, we can break through the soil opening it up so that sunlight, oxygen, water and nutrients can once again get through. Liquid aeration uses a spray boosting the health of your grass while creating a blanket of lush, thick velvety turf. When you invest in lawn aeration in Naples, our Land-Art technicians will help you accomplish: 
Healthier, greener grass.

Stronger more sustainable root zone.

A decreased amount of thatch.

Less concern of water running off your yard.

No hassle regarding removing your sprinkler heads or cable lines.
Tree & Shrub Care in Naples
Ornamentals are more than just curb appeal. Trees and shrubs add character to your yard and become landmarks of your home and memories made there. Land-Art's tree and shrub care focuses on protecting these valuable plants from disease, drought stress, and pests. Our tree service in Naples goes beyond basic insect control to target fungus and offer fertilization. When you trust Land-Art with your precious ornamentals, you'll receive:
Horticultural oil application

on our first visit to kill insects.

Our blooming formula

that rapidly feeds palm trees.

Insect control that protects palm trees

from scales and mites.

Pest protector and fungicide

to strengthen your plants' defenses.

Micro-nutrient spra

y applied directly to foliage.

Optional services available

for other seasonal issues.
If you're ready to extend the life and vibrancy of your trees and shrubs, contact our Land-Art team today for care that will keep your plants going for generations.
Outdoor Pest Control in Naples
Your yard is an important investment that you deserve to enjoy. Pests make it nearly impossible to enjoy the outdoors without worry, which is why at Land-Art we offer outdoor pest control in Naples as a component of our full-service lawn care options.Our insect control is meant to defend your entire property so that you, your pets, your family, and your guests can relax and enjoy your lawn without fear. Our experienced technicians will apply the liquid barrier around your house as well as around your property for reliable protection that repels pests. We even make return visits to refresh the barrier so that you're always getting maximum protection all season long. 
Grub Control in Naples
June bugs love the warmer weather, as do their obnoxious grubs. These larvae may be small, but they can easily decimate a lawn with their diet of grass roots. If your lawn is rolling up like a carpet or you're noticing moles, skunks, opossums, and birds frequenting your yard to dig, you're overdue for Land-Art's grub control in Naples.The best defense against grubs is prevention, so our grub control program consists of a yearly application that protects your grass all year long. If you do need grub control as a curative, our team can often treat within a few working days and then help you determine future courses of care.
Mosquito Control in Naples
Down here in sunny Florida, we're no stranger to viscous and stubborn mosquitoes. But just because they're a part of life in the Sunshine State, does that mean that you have to put up with them in your yard? At Land-Art, we say no! In fact, with our mosquito control in Naples on your side, you'll have a comfortable, safe yard that you can count on to last all year. You and your loved ones deserve to enjoy your outdoor spaces in peace so let the local experts with more than 45 years of experience finally get rid of mosquitoes for you.
When you work with us for mosquito treatment, you can expect: 
A thorough yard inspection

from a highly-trained and qualified technician. 

Personalized mosquito prevention and control plans

designed to address your unique needs.

Maximum flexibility with our

contract-free service

. 

Long-lasting protection from dangerous diseases

like West Nile Virus, Zika, Malaria, and Yellow Fever.

Environmentally-friendly treatments

which use exclusively EPA-approved products. 

And lots more!

 
Professional Lawn Care With Complimentary Service Calls
We know the difficulty of waiting for service if you notice weeds flare up. When you trust Land-Art with lawn care in Naples, you can choose exactly when you need services and give us a call. All of our knowledgeable technicians are certified and go through rigorous training year-round, so you can count on us to provide reliable care with consistent results. Finally, all of our services come with a satisfaction guarantee straight from the owners of Land-Art: if you're not satisfied with our work, we'll do what it takes to make it right at no extra charge to you. Contact us today for full-service lawn care from the local experts who will treat your lawn the same way they'd treat their own.
Looking for Lawn Care Services Outside of Naples?
We also offer lawn care in the following cities around Naples, FL: