Image
Proudly Serving the Powell Community for Over 45 Years
Lawn Care in Powell
When only an exceptional lawn will do, you want the highly qualified professionals at Land-Art to provide you with the best curb appeal in Powell. With loyal customers who have been with us for many years, our technicians have been providing aesthetically appealing landscapes for the community of Powell since 1974. With our beautifully manicured neighborhoods, highly rated school system, and supportive community, it's no wonder the residents and businesses of this great city want nothing but the best lawn care possible.
Get an Instant, Online Quote
Image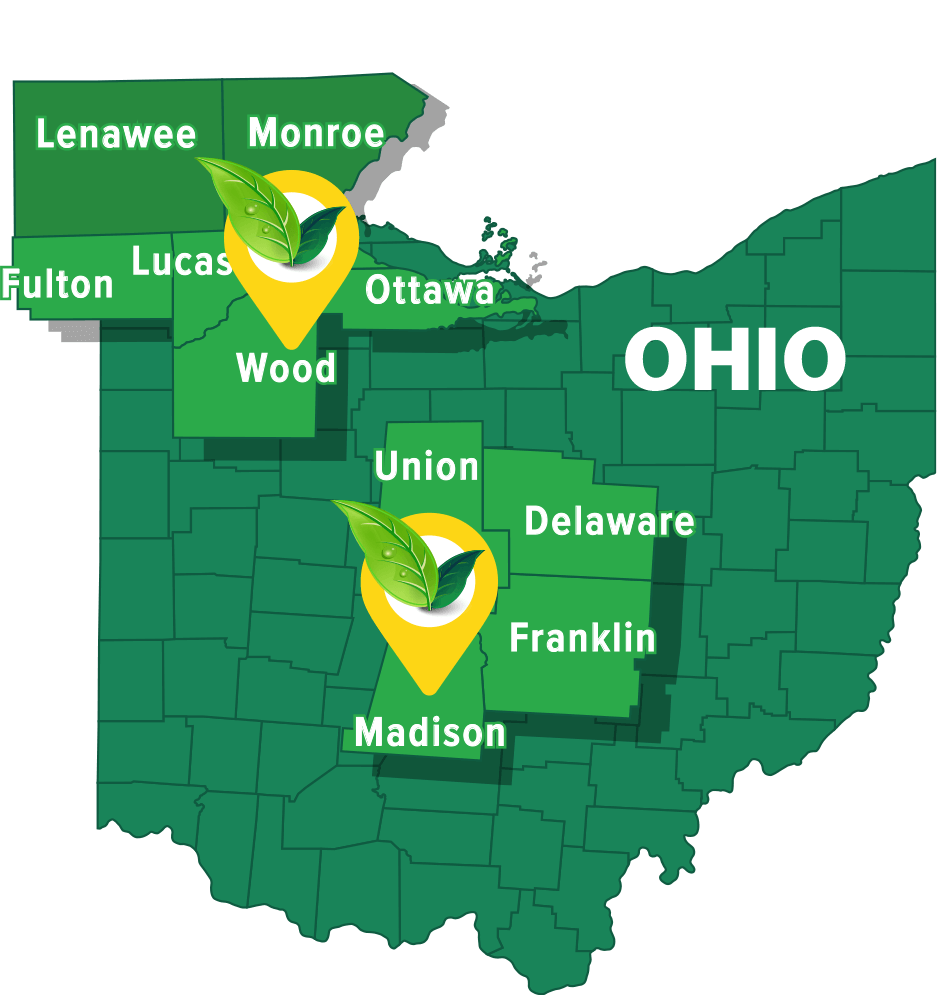 Land Art's Expert Lawn Services – Guaranteed!
Land-Art provides high-quality, professional yard care services giving you a vibrant, healthy landscape. Here in Central Ohio, Land-Art provides a comprehensive 6-step slow-release fertilizer program. It contains all the essentials needed for a healthy, weed-free yard. Whether you need fertilization, aeration, weed control, or anything in between, we want to make sure our lawn care services deliver on what we promise. Join us and find out what exceptional lawn care is all about. When you work with us for expert lawn care in Powell, you can expect the following: 
Slow-release granular fertilizer

to ensure a healthy, robust turf.

Pre-emergent crabgrass control to

stop this obnoxious weed from sprouting.

Liquid broadleaf herbicide

for the management of challenging weeds.

Spot treatment

of broadleaf and annual weeds.

Season-long inspection

of yard surface insects by qualified lawn care technicians.

Over 45 years of experience

with a trusted lawn care company.
Weed Control in Powell
Weeds are opportunistic lawn-invading eyesores and have no place on our well-manicured yards. The best way to control these annoying plants is through early prevention. When you partner with Land-Art for weed control in Powell, you can rest assured knowing our lawn care technicians will put weeds in their place and you don't have to worry about picking them by hand any longer. 
Our weed control service includes:
Pre-emergent weed control is utilized to

kill overwintering weeds before they sprout.

Season-long

broadleaf and post-emergent weed control.

Elimination of hard-to-control weeds such as

crabgrass, sedge, thistle, and more.

Licensed, trained, and

certified lawn care technicians.

Weed control with

free complimentary service calls.
Aeration and Overseeding in Powell
Here in Ohio, we enjoy our short but warm summers. Spending time in the backyard having barbecues, playing catch, and running with the pets and kids is a must in our community. But all of this excessive foot traffic can take its toll. Add the heat and drought of a hot summer, and your soil can become overrun with thatch or even compacted. When soil becomes compressed, it can prevent vital nutrients, sunlight, water, and air from getting in. This causes your roots to suffer and your grass to turn brown and thin. The fastest way to bring your turf back to life is through lawn aeration and grass seeding in Powell. This beneficial process provides numerous advantages to your yard. With lawn aeration, these will include: 
Increased resistance

to weeds, fungi, and disease.

A higher percentage of germinated seeds.

A reduction in standing water.

Stronger, healthier roots.

An overall thicker, more durable lawn.
Outdoor Pest Control in Powell
There is nothing more annoying than having a beautiful lush lawn and not being able to enjoy it. Don't allow lawn pests to keep you from enjoying your outside space. Invest in Land-Art's outdoor pest control in Powell. Land-Art provides insect control that protects both the inside and outside of your home. Our liquid barrier pest protection is applied around your home's foundation and to all areas throughout your landscape where pests live and breed. When you invest in insect control in Powell, a Land-Art technician will help you with the following:
Four applications

spread 30 to 35 days apart.

Season-long protection

from disease-carrying pests.

Licensed and certified expert technicians.

Use of safe and

EPA-approved products.

A 100% guarantee, or we return!
Looking for Lawn Care around Powell?
We also offer lawn care services in Plain City, OH!