45+ Years of Expert Lawn Care in Sylvania!
Lawn Care in Sylvania
Life in Sylvania gives you a lot of opportunities to enjoy the outdoors. A beautiful yard gives you the chance to do so without leaving home, but the pressure to maintain a healthy yard with curb appeal can really put a damper on that joy. At Land-Art, we firmly believe that a yard is an investment that you deserve to find joy in. Our lawn technicians offer full-service lawn care in Sylvania so that you can sit back and relax knowing your yard is taken care of by the best. 
Get an Instant, Online Quote
Image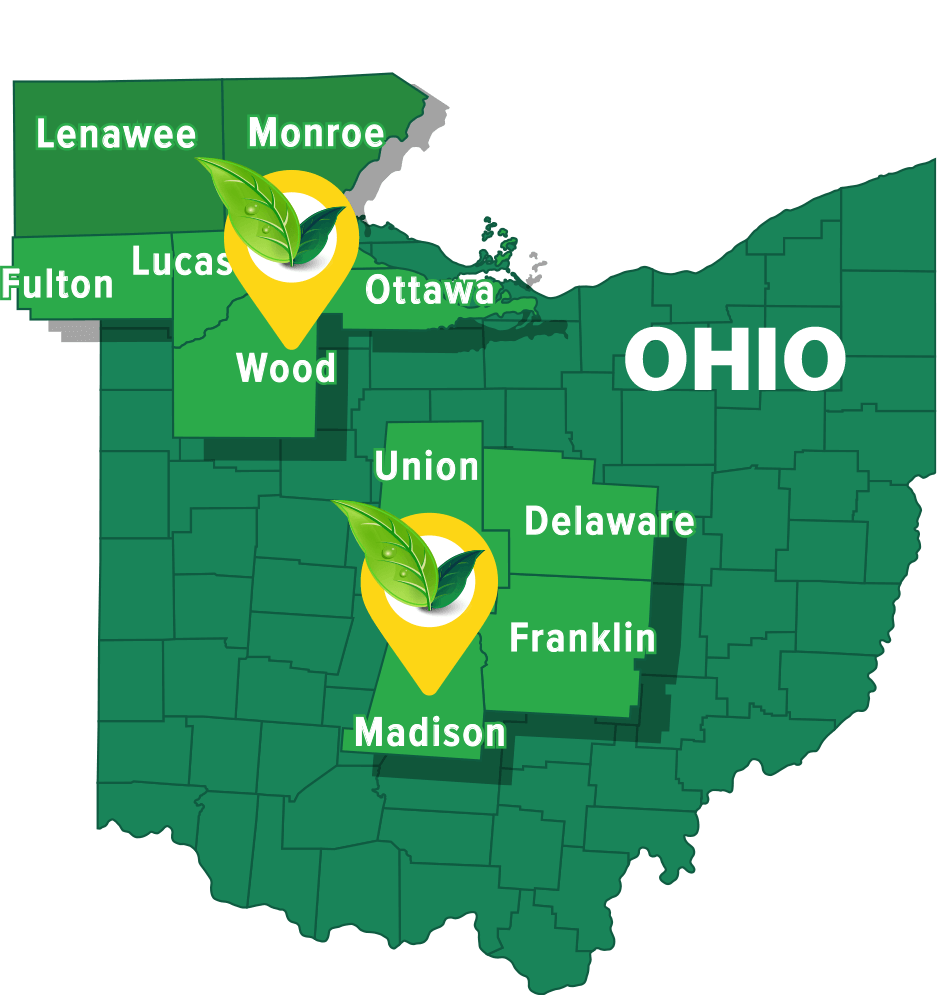 Sylvania Lawn Care With A Purpose
Our lawn care programs go beyond cookie-cutter routines. They're designed for the climate and weather patterns of Northern Ohio and customizable according to your unique needs. In fact, you can get a free, no-obligation lawn evaluation from one of our experienced technicians when you call Land-Art. When you choose a company like Land Art for lawn care in Sylvania, you can expect: 
Five applications

spread 6-8 weeks apart for consistent results.

Slow-release granular fertilizer

that keeps grass well-nourished.

Pre-emergent control

to stop weeds before they germinate.

Regular weed control

that gets rid of broadleaf, spurge, dollar weed, and more.

Ongoing inspections for pests

so that we can treat them if needed.

Winterization

for healthy emergence when spring comes.
Fill Out An Online Consultation
From Our Family to Yours
Land-Art was founded in 1974 to deliver advanced lawn care with dependable customer service. We keep up with the newest high-quality products and solutions because you deserve the best. When you partner with us for lawn care in Sylvania, you're putting confidence in over 45 years of expertise. As a family-owned business, we understand how important it is for you to trust the service providers that work around your home. All of our technicians are state certified and receive ongoing training all year long. Our decades of experience include a reputation for prompt service, honesty, and consistency. Our Land-Art team will always treat your yard like it's their own
Weed Control in Sylvania
Weed control is a delicate balance as you try to preserve your own grass without sparing any unwelcome weeds. This battle lasts all year long, as weeds have their own preferences for when and where they'll grow. For lasting weed control in Sylvania that stays gentle on your turf, you can call Land-Art. Our weed control treatments start early and go on all season long, including:
Combination with fertilization

to promote grass that out-competes weeds.

Pre-emergent treatment

to get ahead of annual weeds.

Post-emergent treatments

for sedge, clover, crabgrass, and more.

Eradication of weeds

for a healthier, thriving yard!
Aeration & Seeding in Sylvania
Similar to the rooms in your home, lawns are subject to regular foot traffic and wear-and-tear over time. However, your yard doesn't have the protection of hardwood, laminate, or a nice area rug. Instead, soil gets compacted over time and grass roots have less space to breathe and soak up water and nutrients. If your turf is looking sparse or you've noticed areas of dry, yellow thatch building up, then it's time to look into lawn aeration and seeding in Sylvania. Our aeration and seeding service in Sylvania uses a machine to pull soil plugs from your lawn. This creates pockets where soil can expand and grass roots can easily accept water, fertilizer, and seed. 
We follow up the aeration process with overseeding while the soil is primed for absorption. This fills in gaps in your turf naturally and helps develop stronger connected root systems. Other benefits of lawn aeration in Sylvania include:
Softer and more vibrant grass. 

Better response to fertilizer application.

Disease-resistant turf.

Decreased water pooling.

Visible results within weeks of treatment

as your grass comes back to life!
Outdoor Pest Control in Sylvania
At Land-Art, we believe in creating magazine-quality lawns that you can actually use. When pests are making themselves at home in your yard, it's hard to enjoy the benefits of investing in your yard. That's why in addition to our extensive menu of lawn services, we also offer outdoor pest control in Sylvania. You deserve to enjoy the yard that you invest in. At Land-Art, the safety of your home and family comes first so that you can reap the benefits of a happy and healthy yard without fear. With our lawn pest control in Sylvania, Land Art technicians are rigorously trained team members that will apply a protective barrier around your home and property, and even follow up with re-applications throughout the season. We also offer specific additional pest treatments that can be added to your lawn care program any time. 
Grub Control
You may not notice grubs on a regular basis, but you're sure to notice when your grass is so weak that it rolls up like a carpet. These june bug larvae weaken grass roots and attract creatures like foxes, skunks, and moles that love to dig for their food. If you're concerned about grubs sabotaging your lawn, Land-Art offers annual preventative treatment to protect your turf. And if a grub infestation is underway, our attentive technicians can treat within a few working days and then annually going forward. Don't let sneaky grubs undermine your landscape. Contact Land Art for professional grub control in Sylvania and reclaim your yard today.
Tree & Shrub Care in Sylvania
Ornamentals are known for adding property value, but more importantly, they provide shade, beauty, and sentimental value. Professional tree and shrub care ensures that these landscape staples stick around for the entire family to cherish. Our tree service in Sylvania focuses on protecting your plants from drought, pests, and disease. The treatment plan is formulated for the conditions to give your trees and shrubs the best possible care. This comprehensive service includes:
Foliar feeding

where fertilizer is applied directly to leaves.

Targeted insect control

to prevent skeletonizing and infestation.

Feeding in the fall and winter

to strengthen roots.

Optional deep-root injection

that sends fertilizer directly to root zones.
Mosquito Control in Sylvania
Land-Art provides mosquito control services to help eliminate pesky mosquitoes in Sylvania, allowing homeowners to enjoy their yards without interruption.
Our comprehensive outdoor inspection

assesses your unique needs and guarantees a personalized solution.

We use EPA-approved liquid sprays

and targeted larvicides to eliminate mosquitoes at every stage of their life cycle.

Our

mosquito traps are strategically placed

to ensure maximum efficacy.

Our mosquito prevention and treatment plans are

customizable and flexible

to adapt to your evolving needs.
At Land-Art, we stand behind our services with a 100% satisfaction guarantee. Our expert mosquito control will give you a safe and mosquito-free yard that you and your family can enjoy. Say goodbye to unwanted pests with Land-Art's mosquito prevention in Sylvania today!
Full Satisfaction with Complimentary Service Calls
We believe that advanced lawn care doesn't need to be complicated. At Land Art, our goal is for expert care to come with outstanding customer service. When you sign up for lawn care in Sylvania with Land-Art, you can also always have your questions and concerns addressed with service calls. There is no extra charge for service calls when you have a concern or question for our team, so feel free to contact our team whenever and we will visit your home. Our 100% satisfaction guarantee is directly from the owners of Land-Art, who agree that should you have a problem with our work, they'll do what it takes to make things right.
Looking for Lawn Care around Sylvania?
We also offer lawn care services in Toledo, OH!