Image
Free Estimates on Expert Lawn Care in Toledo
Lawn Care in Toledo
Toledo is an incredible place to live with award-winning attractions and lots of opportunities to enjoy the outdoors. A well-kept lawn gives you the chance to claim a piece of Toledo that you can prioritize however you want. If keeping your yard healthy and happy seems like an overwhelming task, don't give up. Land-Art offers top-quality lawn care that keeps your turf at its best year-round. If you need services like weed control, aeration and seeding, fertilization, or everything in between, get in touch with our expert technicians today! 
Get an Instant, Online Quote
Image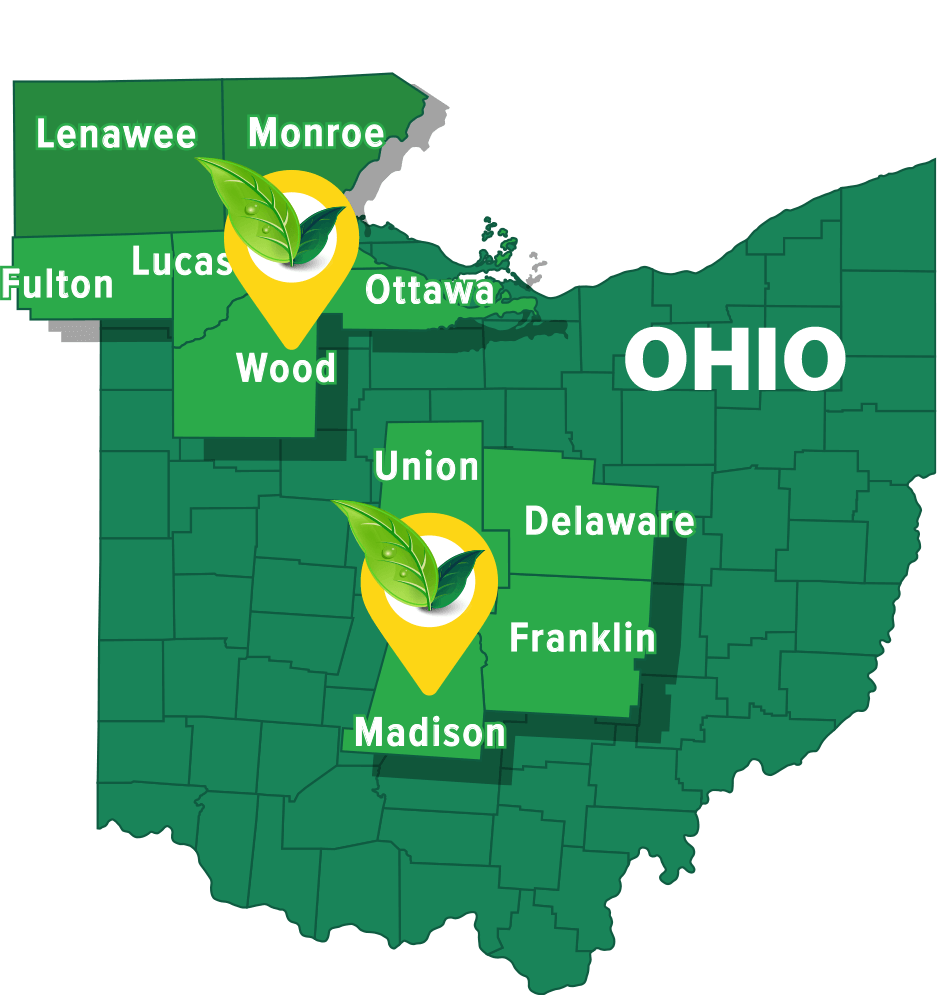 The Land Art Difference
Our flagship lawn care program in Toledo includes five applications total over the course of seven or eight weeks so your turf has the time it needs to respond to treatment. When you trust a lawn care company like Land-Art with your yard, you can expect:
Slow-release fertilizer

applied regularly to promote strong, vibrant grass.

Pre-emergent crabgrass control

in the springtime.

Weed control for broadleaf

throughout spring and summer.

Regular pest inspections

and treatments if necessary.

Winterization

that keeps your turf nourished until it re-emerges.

Add-on options

including grub control, aeration, overseeding, and fungicide.
Friendly Local Lawn Experts
Land-Art is a family-owned business, so we understand the trust you place in technicians that work around your home. All of our technicians are state certified and receive ongoing training throughout the year so that they are always up to date on the best practices. Over the years, we've built a reputation for consistent and friendly service.
Our knowledgeable team members are attentive to detail and will let you know if they notice any disease, pests, or problems during regular visits. Additionally, there's no extra charge for service visits to address your questions or concerns. Call Land-Art for lawn care in Toledo and they will treat your yard like they would treat their own.
Weed Control in Toledo
Weeds are so prolific that most homeowners just accept them as inevitable. You don't have to put up with these unsightly plants that hog water and nutrients in your soil and crowd out your turf for less growing potential. Instead, trust our weed control in Toledo which will help reclaim your yard and eliminate all of the frustrating weeds. Our weed control treatments are applied before and during the height of the season, so this way they don't stand a chance in overpopulating your yard. When you count on our expert technicians at Land-Art, you can expect:
Integration with fertilizer applications

for the best possible results.

Pre-emergent treatments

formulated to last.

Targeted post-emergent treatment

for sedge, broadleaf, crabgrass, and much more.

Grass-friendly herbicide

that is tough on weeds but won't strip your turf.
Aeration and Seeding in Toledo
Lawns are meant to be enjoyed and like any well-used area of your home, your yard experiences wear and tear over time. You may notice grass getting sparse, yellow thatch building up, or common pathways wearing away. All these changes are signs that your lawn could benefit from aeration and seeding in Toledo. At Land-Art, we know that a thriving lawn starts with healthy soil. Soil naturally gets compacted over time as you use your lawn, and this eventually wears down your turf. Compaction restricts the flow of water, air, and essential nutrients to your grass, resulting in a yard that isn't as resilient as it once was.
Our lawn aeration in Toledo uses machinery to pull cores of soil from your yard.The holes this leaves behind give your grass roots room to breathe and easier access to resources. We follow up aeration with seeding while the soil is receptive, resulting in a lawn that grows back thicker and stronger than before.
Additional benefits of aeration and seeding include:
Softer grass

with lush new growth.

Breakdown of yellow thatch patches.

More disease-resistant grass.

Less water

puddling or runoff.

Visible results within weeks

of treatment as your turf refreshes from the inside out!
Tree and Shrub Care in Toledo
Trees and shrubs are more than just property value boosters. These plants are fixtures of your yard that, when cared for properly, last for the whole family to enjoy for generations. Our tree and shrub care in Toledo use top-quality products applied seasonally so that your ornamentals are at their best all year long. Don't let these ornamentals die off and produce negative impacts around your yard. Instead, let them use their many benefits like increased property value, buffering noise pollution, clean air, and privacy. 
Our specially designed tree service in Toledo includes: 
Foliar fertilizer

applied directly to leaves for better absorption.

Insect control spray

that keeps skeletonizing insects away.

Disease control

using nutrients that improve plant health.

Early fall treatment

to keep bugs from seeking refuge in your plants.

Ornamental feeding

to fortify roots for winter.

Deep-root fertilizer injection options.
Outdoor Pest Control in Toledo
It's difficult to reap the benefits of excellent lawn care when pests make you dread stepping outside. That's why Land-Art is glad to offer outdoor pest control in Toledo that keeps your family and yard safe from destructive, pesky bugs. Our lawn pest control involves establishing a protective barrier around your property. The applications are spaced out over time to keep the barrier as secure as possible, leading to less insects roaming around your property. 
Instead of letting possible destructive pests ruin your property, contact the expert technicians and let us exterminate these insects for good. We offer services for the following pests: 
Fleas

Ticks

Spiders

Stink bugs

And more!
Get A Free Consultation Online 
Grub Control
Grubs may stay under the soil, but they can easily destroy your lawn by making a meal of grass roots. These juvenile June bugs also attract grub-loving creatures like birds, moles, skunks, and opossums who will dig for their meals. If you're noticing these animals hanging around more often, it may be time to call Land-Art for grub control in Toledo.
The best defense against grubs is preventing them in the first place, which is why preventative treatment from Land-Art is applied annually when you add it to your lawn care plan. But if grubs are already giving you trouble, we're available to treat within a couple of work days, and then follow up with annual treatment in the future. 
Mosquito Control in Toledo
There seem to be 2 seasons in Toledo, winter and mosquito season. As soon as the snow melts, these ravenous insects will soon be infesting your property. Because we have such a short time to take advantage of our yards during the Spring before they take over, Land Art's mosquito control services will banish these annoying pests, giving you relief to enjoy your outdoor activities. 
When you trust our friendly and knowledgeable technicians for mosquito control Toledo, you can expect: 
A

free

thorough inspection

of your yard and surrounding areas to assess your situation.

A

custom mosquito prevention plan

that is tailored to what we find.

Protection from diseases transmitted by mosquitoes

, such as West Nile, Zika, Malaria, and more.

Follow-up visits

and complimentary service calls to make sure you're satisfied with the results.

Use of

EPA-approved and eco-friendly

treatments that will get rid of mosquitoes.

Contract-free options to fit your needs.
Satisfaction Guaranteed
At Land-Art, we put customer satisfaction first. Over the years, our technicians have developed a reputation for great relationships with our customers, and friendly dependable service at all times. Our technicians are happy to address your questions and concerns and there's no charge for service calls to do so. We believe that incredible lawn care in Toledo should be accessible to the whole neighborhood, so we don't complicate things and also include complimentary phone calls. When you trust Land-Art with your property, our services are backed by a satisfaction guarantee straight from the lawn care company owners: if you're ever unsatisfied with our service, we'll make things right at no extra charge.
Looking for Lawn Care Services Outside of Toledo?
We also offer lawn care in the following cities around Toledo, OH: