Image
Exceptional Oregon, OH, Lawn Care When You Need It Most
Lawn Care in Oregon, OH
Looking for high-quality lawn care in Oregon, Ohio? Look no further than Land-Art. We provide professional lawn care services with the convenience of the customer in mind. From turf and tree services to outdoor pest control, we are your one-stop shop offering professional, affordable lawn care with complimentary service calls. When you want to find a lawn care company to trust, look no further than a company that has expert experience under our belt
Get an Instant, Online Quote
Image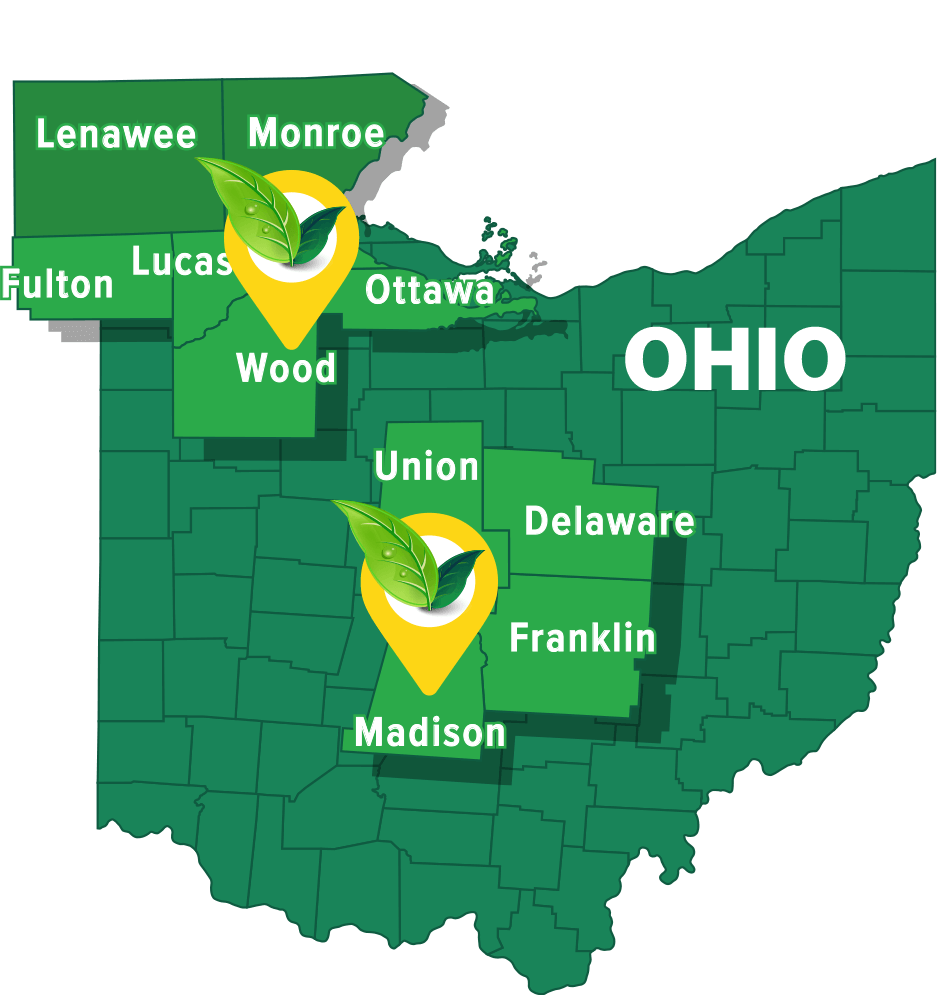 The Best Lawn Services in Oregon, OH
Land-Art has been providing lawn care for the residences and businesses of Oregon, OH, for over 45 years. Designed for our specific climate here in Northern Ohio, our lawn care program was created to establish and maintain a healthy, vibrant lawn free of annoying weeds. Starting in early spring, our 6-step lawn care program consists of 5 treatments applied 6 to 8 weeks apart.
These highly effective lawn treatments include:
Slow-release granular fertilizer

for the overall health and vitality of your turf.

Pre-emergent

for the control of challenging crabgrass. 

Liquid herbicides

to prevent and combat broadleaf weeds.

The knowledge and expertise of

licensed lawn care technicians.

The backing of a

family, locally owned lawn care company. 
Your Satisfaction is Guaranteed With Land Art
Lawn Care services can either make or break the potential of your landscape. Curb appeal is very important, and we value all of this and more. When you trust our technicians for lawn care in Oregon, OH, you can expect only the best services the first time around. If you are dissatisfied with our work, let us know and we will make it right – guaranteed!
Weed Control in Oregon, OH
Nothing is more annoying than having a green, lush lawn with obnoxious weeds sticking out. These aggressive growers rob your grass of nutrients, water, and sunlight and have no place in your yard. At Land-Art, we start attacking these lawn invaders with prevention and continue combating them all season long.
When you invest in weed control in Oregon, OH, you will receive the following: 
Personalized attention

by skilled and experienced lawn care experts. 

Pre-emergent weed control to

prevent weeds from germinating.

Eradication of challenging weeds such as

crabgrass, thistle, spurge, sedge, and many more. 

Broadleaf and post-emergent weed control

all season long.
Aeration and Seeding in Oregon, OH
No matter how well you maintain or care for your yard, yearly foot-traffic, heat, drought, and winter conditions can sometimes take their toll. If your turf looks fatigued, is showing brown patches, or wearing thin, you may have compacted soil. When soil is compressed, it stops essential nutrients, water, sunlight, and oxygen from getting through, causing your roots to suffer. This can lead to increased resistance to disease and lawn surface insect invasions. This is where lawn aeration comes into play and can help.
Benefits of aeration and seeding in Oregon, OH, can include: 
Increased resistance to climate stressors

such as drought and heat stress.

Stronger, more durable roots. 

Decreased thatch build-up.

Thicker, fuller grass.

Less run-off

and water pooling. 

An overall healthier turf. 
Tree and Shrub Care in Oregon, OH
At Land-Art, we know maintaining an aesthetically appealing landscape doesn't stop with your lawn. Trees and shrubs play an important part in your overall look, adding color, blocking noise and air pollution, and providing shade in our hot summer months. Like your turf, they also need upkeep and care and can be prone to insect infestations and deadly diseases.
When you invest in tree service in Oregon, OH, you can expect the following:
A

4-step application program

that starts in early spring and runs throughout the season.

Foliar applications that provide

fertilizer directly to the leaves.

Insect and

disease prevention

and control. 

Fungicide prevention

and control.

Tree and shrub care that will address your questions and concerns along the way. 
Mosquito Control in Oregon
Get ready to say goodbye to annoying mosquitoes with our expert mosquito control in Oregon. Our team of exterminators offers a range of effective solutions to keep your yard mosquito-free.
Free Inspection:

Our comprehensive outdoor inspection assesses your specific needs to create a customized mosquito treatment plan.

EPA-Approved Liquid Sprays

: Our customizable and flexible mosquito treatment plans include the use of EPA-approved liquid sprays to target and eliminate mosquitoes.

Larvicides in Targeted Areas

: In addition to liquid sprays, we also use larvicides in targeted areas to prevent mosquito larvae from developing into adults.

Mosquito Traps

: Our team also utilizes mosquito traps to catch and eliminate mosquitoes in your yard.
Get Rid of Mosquitoes Contract & Worry Free
At Land Art, our services are contract-free and come with a 100% satisfaction guarantee. We offer follow-up visits to ensure our service is having the intended effect and complimentary service calls to address any lingering concerns. Don't let mosquitoes ruin your outdoor fun - let us help you take back your yard with our expert mosquito treatment and prevention services.
Outdoor Pest Control in Oregon, OH
Located close to Lake Erie, Oregon, OH has its fair share of insects and pests. Many such as fleas and ticks carry diseases that are harmful to your loved ones and pets. Land-Art offers an outdoor pest control program to help keep your home and family safe. We apply a liquid barrier around the outside of your home, focusing on areas in which pests live and breed, including standing water, under trees and in tall grasses, and around cracks and broken seals. 
Our highly effective insect control in Oregon, OH, will keep the bites, diseases, and bacteria of many pests at bay, including:
Fleas

Ticks

Stink bugs

Boxelder bugs

Spiders

And More!
Looking for Lawn Care around Oregon, OH?
We also offer lawn care services in Toledo, OH!