Image
Comprehensive Lawn Care With Consistent Results
Lawn Care in Waterville
Weeds, pests, and changing weather conditions can all have a big impact on your Waterville lawn. But achieving a healthy yard that's free of pests and weeds can take a lot of work and requires continual maintenance. When you look into lawn care in Waterville, you're working with a lawn care company that covers all the bases, offers additional services as needed, and makes your yard beautiful, weed and pest free, and vibrantly green. When you partner with Land-Art and our expert Waterville lawn technicians, you can rest easy knowing you're getting: 
A thorough lawn inspection

to determine what your yard needs to look its best, free of charge and obligations. 

Quick, effective treatment

within a week of signing up (unless otherwise specified). 

Service from expert lawn care technicians

with yearly and seasonal training. 

Detailed weed control plan

that changes with the seasons. 

Routine fertilizer applications

to make sure your grass plants have all the nutrients they need. 

Optional add-on services

to target grubs, compacted soil, insects, and fungi. 
Get an Instant, Online Quote
Image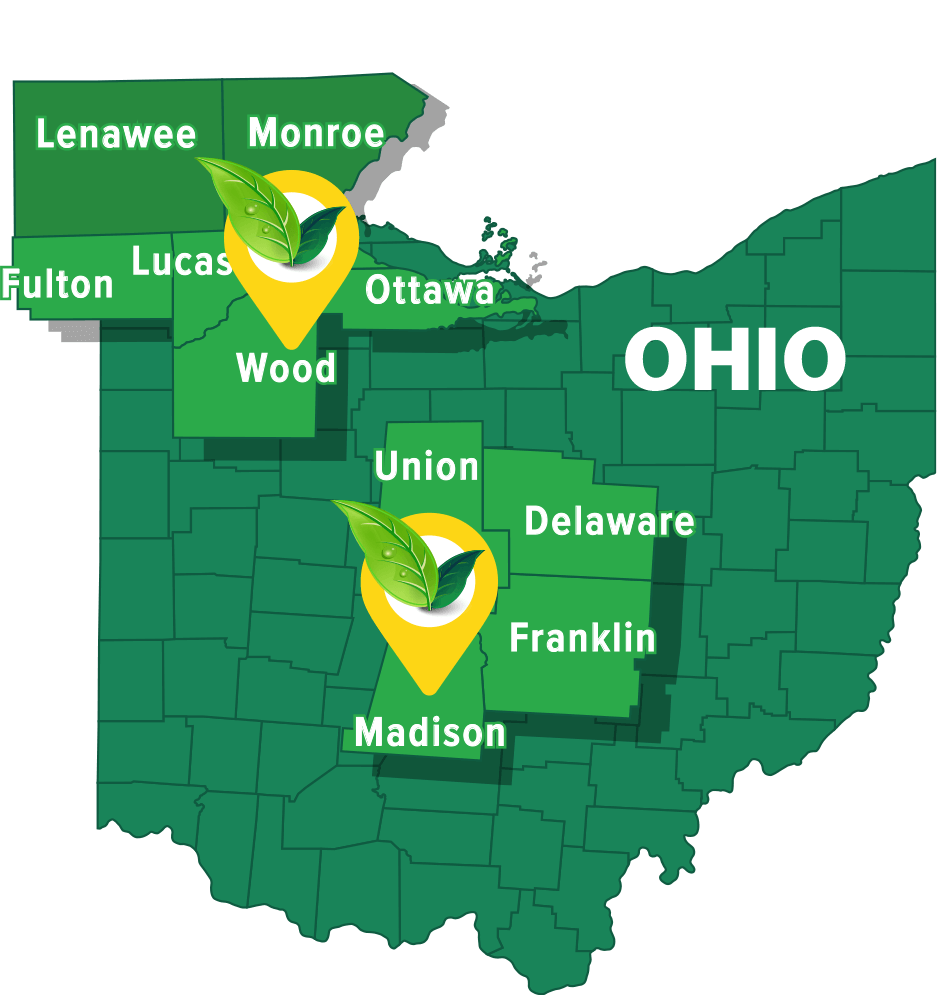 Quality Waterville Lawn Care Service You Can Trust
Getting reliable and effective lawn care in Waterville doesn't have to be stressful. Land-Art's friendly, professional technicians have been providing comprehensive services to the central Ohio area for over 45 years. Our wide variety of lawn services have consistent, timely results and are tailored to the local climate unique to the Waterville area. So if you're looking to take your yard from lackluster to lush, Land-Art has you covered. 
Whether your yard needs fertilization, treatment for insects, aeration, or weed control, Waterville's premier lawn care company Land-Art is here to help. With our service satisfaction guarantee, highly trained technicians, and free complimentary service calls for questions or concerns, you can confidently enjoy your yard without worrying about pests, weeds, or an under-nourished yard. 
Four Decades of Local Lawn Services
At Land-Art, when you work with us for services to improve your lawn and curb appeal, you're working with technicians that are attributed to experience and trust. We are a family-owned business that has been servicing customers for over 45 years and have the latest up to date technologies to ensure your turf is getting increased nutrients and better longevity. We offer complimentary service calls between each scheduled service, so you can detail any questions or concerns that may come up along the way while you work with Land-Art. 
Weed Control in Waterville
You can bend over backwards to keep your lawn and garden healthy, vibrant, and looking its best all year, only to have weeds come along and spoil everything. It's a frustrating reality of being a yard care enthusiast, and this is why you should incorporate Waterville weed control to your lawn care program. Nuisance weeds are aggressive, opportunistic, stubborn, and notoriously difficult to get rid of on your own. When you work with us here at Land Art though, we'll give your yard a comprehensive inspection from a trained and experienced lawn care technician, followed by the sort of dependable and lasting protection that you deserve. 
With our weed control in Waterville working for you, you can expect relief from: 
Sedge

Crabgrass

Dollar Weed

Broadleaf

Spurge

Thistle

Chickweed

Summer Annuals

Clover

And many more!
Aeration & Seeding in Waterville
A key component of any lawn care company's services is aeration and seeding. At Land-Art, we recommend lawn aeration in Waterville to be done at least once every 2 years, usually in the fall. Even with regular use and routine maintenance, the soil in your yard can become dense and compressed over time. Signs that your lawn is in desperate need of lawn aeration include: 
Grass that feels spongy

when you walk on it. 

A

thick layer of thatch.

Patchy, thinning, or discolored spots.

  

Puddles or pools of water.

 

Bare spots

where nothing grows and

water runs off

without absorbing. 

Sections of your yard that regularly receive

heavy foot traffic

. 

Slow or stunted grass plant growth.
If you've spotted these signs in your yard, it's time to call the experts for lawn aeration in Waterville from Land-Art. Proper aeration breaks up compacted soil, allowing your grass plants to better absorb important nutrients, water, air, and sunlight. When done with overseeding, this process can boost your turf's health and drastically improve its appearance. 
Tree and Shrub Care in Waterville
Your trees and shrubs are what give your yard character, shade your outdoor spaces, provide a haven for wildlife, and so much more. They may seem like they don't need any specialized ministrations, but treatments to make your lawn flourish won't properly nourish your ornamentals. Our 4-step tree and shrub care program in Waterville is designed to support your ornamentals and increase their resistance to drought, disease, and pests. We use only top-quality products applied seasonally to keep your landscaping at its best all year long.
Our custom tree services in Waterville include:
A thorough inspection

by one of our knowledgeable lawn technicians to assess your plants.

Easily absorbed

foliar fertilizer sprays

 are applied directly to leaves.

Ongoing targeted insect control

to protect your trees and shrubs from these pests.

Disease control

using nutrients to boost plant health.

Fall feedings

 designed to fortify roots for winter.

Optional deep-root fertilizer injections

into the root zones to eliminate competition for nutrients from surrounding vegetation

.
Looking for Lawn Care around Waterville?
We also offer lawn care services in Toledo, OH!
Outdoor Pest Control in Waterville
Outdoor Pest Control in Waterville is one of the many services we offer at Land-Art. We understand that not everyone has time to deal with pests like grubs, fire ants, or ticks on a daily basis, which is why we offer a variety of services that can help you take care of these annoying critters. When you hire us to take care of your pests, you will get:
A comprehensive, free inspection

to determine where pests are breeding.

Expert technicians

that will use the most up-to-date technology to make sure your pests are removed.

100% satisfaction guarantee

, if pests return then so do we!
Mosquito Control in Waterville
Say goodbye to pesky mosquitoes with Land-Art's expert mosquito control in Waterville. Our team offers a free and comprehensive outdoor inspection, taking into account your specific needs and concerns.
Trust Our 100% Service Guarantee
Rest easy knowing that our services are 100% guaranteed and backed with free re-treatments if bugs return between scheduled appointments. Take back your yard from unwanted pests with Land-Art's mosquito prevention and treatment expertise.