Image
9% Off a Year of Expert Lawn Care in Whitehouse!
Lawn Care in Whitehouse
Whitehouse is a town full of history that is an excellent home for nature lovers. A well-kept yard gives you the chance to enjoy the charming nature of Whitehouse all year long. Land-Art has spent over 45 years providing high-quality lawn care that allows our customers to enjoy their yard without extra stress. If you are looking for fertilization, aeration, weed control, and many other services, Land Art wants to be your one-stop-shop for any lawn care requests you have.
Get an Instant, Online Quote
Image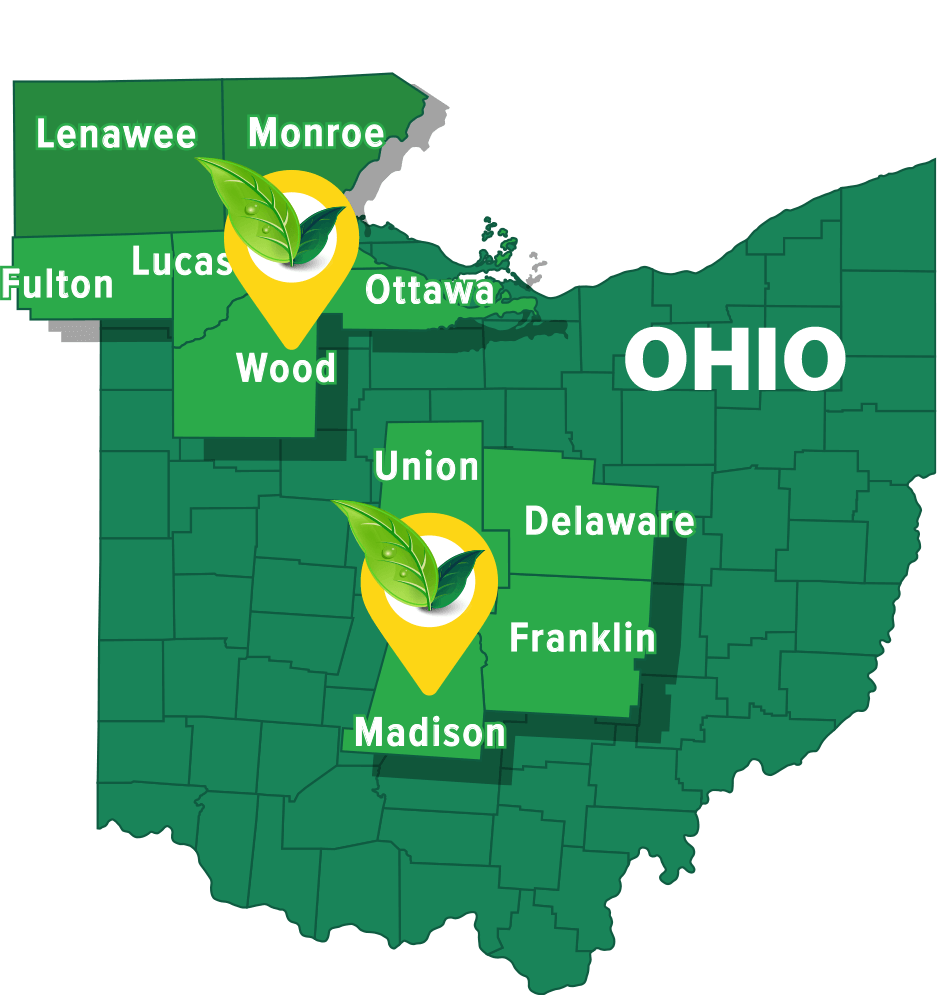 Whitehouse Lawn Care With a Purpose
Our comprehensive lawn care programs in Whitehouse are focused on keeping your yard healthy year-round. All of our treatments start with a free, no-obligation inspection from our rigorously trained lawn care technicians who will work with you to create customized treatment plans that address your property's specific needs.
When you choose Land-Art for lawn care in Whitehouse, you can expect: 
Slow-release fertilizer

designed to nourish your yard for the long run.

Pre-emergent crabgrass

treatment

with your first application of the year.

Broadleaf weed control

all season long.

Monitoring for pests

with every visit to treat if necessary.

Winterizer treatment

so that your grass comes back healthy in the spring.
All of this quality care is spread over six to eight weeks so that your turf maintains its health over time. Our knowledgeable technicians are vigilant about monitoring your yard for any other issues in the process, so you can a lawn care company that looks out for your yards overall health and vibrancy. 
Decades of Exceptional Service
Land-Art was founded in 1974 to provide top-notch lawn care with consistent results. After over 40 years in the industry, we're still actively on the lookout for the latest in yard care solutions and high-quality, EPA approved products. We're no stranger to the challenges of lawn care in Whitehouse, and we have the expertise and reputation to show for it. Our technicians are all state-certified and go through recurring training all year long. We're proud of our team's reliability and dedication to treating every yard like it's their own.
Weed Control in Whitehouse
Weeds are a nuisance for property owners everywhere. No matter how often you pull up these unsightly invaders, they never quit competing with your grass for water and resources. Instead of weed pulling yourself, which can spread weeds more often than not, call Land-Art for weed control that lasts. Our treatments for weed control in Whitehouse focus on protecting your lawn for the height of weed seasons, making room for stronger grass growth that resists infiltration. Our weed control tactics include:
Incorporation with fertilization

for the best possible results

Preventative treatment

with pre-emergent control 

Proactive treatment

to fight emergent weeds like broadleaf, sedge, dandelions, and more. 

Routine follow-ups during the summer

so that no weed goes unnoticed.

Eradication of weeds for a healthier, more beautiful yard!
Aeration and Seeding in Whitehouse
Lawn care isn't always about looks. Owning a landscape gives you more space to host gatherings, spend time with family, or just enjoy the weather. As the seasons go by, lawns go through regular erosion and compaction as we come and go. Soil compaction can choke out grass by making it harder for grass roots to soak up water and essential nutrients. If your yard is looking out of shape despite your best efforts, it may be time for lawn aeration and seeding in Whitehouse. Our mechanical aeration process pulls cores of soil so that the earth has space to expand and absorb everything that grass needs to grow back. 
At Land Art, we follow up aeration with overseeding while the soil is extra receptive so that grass that's worn down over time can grow back thicker and stronger than ever. Other benefits of lawn aeration and seeding in Whitehouse include:
Grass that's more resistant to disease.

Softer, more vibrant turf

the whole family can enjoy.

Less water pooling and runoff

thanks to better absorption.

Better response to fertilization.

Breakdown of dry yellow thatch.

Visible results within weeks

as your yard gets refreshed from inside out!
Tree & Shrub Care in Whitehouse
Ornamentals give your lawn great curb appeal, but more importantly, they are often what makes your yard unique. Whether you take pride in your unique array of plants or have a designated tree for tire swinging, these fixtures carry sentimental value that goes beyond aesthetics. Expert tree & shrub care makes sure that these landmarks stay alive and well for your family to enjoy for years to come. Land-Art's tree service in Whitehouse focuses on protecting these valuable plants from pests, disease, and drought stress. Our comprehensive program includes:
Foliar feeding methods

applied directly to leaves for plants to easily absorb.

Targeting and preventing insect activity

throughout the year.

Disease control

utilizing nutrients essential to plant health.

Fall and winter feeding

that prepares ornamentals for colder weather.

Optional deep root fertilization

that is injected straight into root zones.
Outdoor Pest Control in Whitehouse
At Land-Art, we believe that when you invest in your yard, you should be able to use it without extra worry. We understand that pests can make it difficult to enjoy the outdoors, so we offer lawn pest control in Whitehouse to protect you, your family, and your pets. Insects Land-Art can take care of include:
Fleas & Ticks

Spiders

Beetles

And more!
Lawn care is an important investment and you should be able to reap the benefits of a thriving yard. Insect control from Land-Art gives your property lasting protection so that you can freely enjoy your piece of the outdoors. The preventative treatment creates a barrier to keep pests away from your yard. It's applied over the course of a four-step program to target landscape areas and make sure defense against pests stays strong.
Grub Control 
Grubs certainly aren't easily visible, but the damage they cause is. These June bug larvae make a feast of grass roots, especially in the summertime. Before you know it, your turf gets so weak that it can be rolled up like a carpet. Meanwhile, many animals that love to eat grubs will also dig into your yard looking for a feast. If you're noticing more birds pecking at the ground, or mammals like moles, skunks, and possums digging into your yard, it's definitely time to call Land-Art for grub control in Whitehouse. 
If you've got an active grub problem, our technicians can come by to treat it in a few working days. Usually, our experts recommend annual grub control applied as a preventative. If you're unsure about grub control, our talented team is available to answer your questions and they'll notify you of signs of grubs during regular visits.
Mosquito Control in Whitehouse
Land-Art offers mosquito control services in Whitehouse, which can help eliminate mosquitoes and allow residents to enjoy their yards without interruption. When you trust our team with mosquito removal in your yard, you will get:
A comprehensive, free inspection

to determine where mosquitoes are breeding. 

Expert mosquito control technicians

that will use the most up-to-date technology to make sure your pests are removed.

100% satisfaction guarantee,

if pests return then so do we!
Eco-Friendly Mosquito Treatments
Not only do we provide effective mosquito treatments but they are also safe for the environment. Our EPA-approved formulas use only the safest and most effective ingredients, meaning you can rest assured knowing your family is safe from harmful pesticides.
Owner-Guaranteed Satisfaction
As a family owned business, our Land-Art team takes your trust in us very seriously. We're proud of our highly-trained team for their reputation for consistency, reliability, and friendliness. When you choose Land Art for lawn care in Whitehouse, you're choosing technicians who will always look out for the health of your lawn and put your satisfaction first. We also believe top-of-the-line lawn care includes transparent customer service. That's why when you sign up for care from Land-Art, you can also address any of your questions and concerns with our free complimentary service calls. All of our services are backed by a satisfaction guarantee from the owners of Land-Art: If you're dissatisfied with our services, we'll work with you to make things right.
Looking for Lawn Care around Whitehouse?
We proudly offer lawn care in Toledo, OH!