Image
45+ Years of Expert Lawn Services in Maumee
Lawn Care in Maumee
A gorgeous, healthy lawn doesn't just happen by chance. It requires time and effort to develop a plan to get the most out of your turf. Land-Art is a family-owned business that focuses on building lasting relationships with our customers. We offer a free property analysis and will not pressure you to buy anything unless you want to. The knowledgeable lawn care technicians at Land-Art have already done the research and will make your lawn thrive despite our harsh growing conditions.
With our 5-step lawn care program in Maumee, your lawn will receive:
Slow-release granular fertilizer applications tailored for seasonal growth support.
Pre- and post-emergent crabgrass control treatments.
Liquid applications for broadleaf weed control.
Regular insect inspections and treatments as needed.
And more!
Get an Instant, Online Quote
Image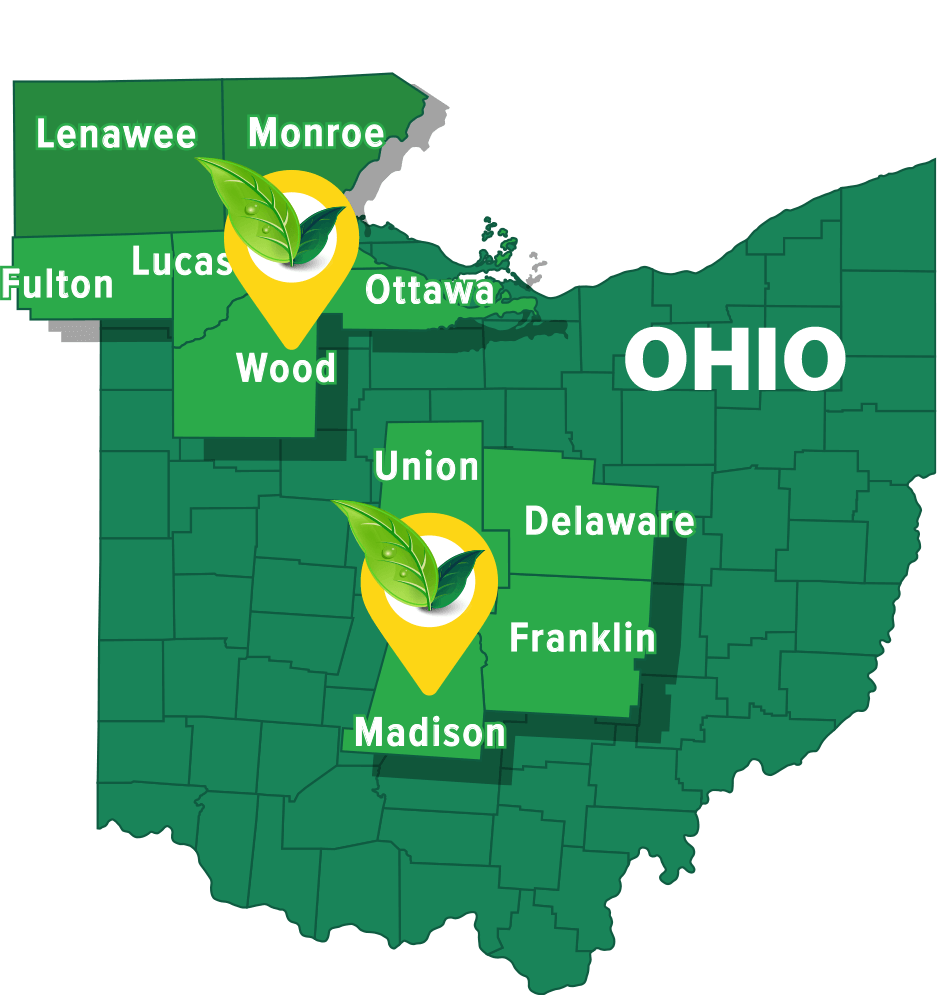 Weed Control in Maumee
Weeds are not just undesirable plants in your lawn. They are a threat to the health of your grass, as they compete for nutrients, water, and sunlight. Because we recognize this, weed control is part of Land-Art's lawn care program. Pre-emergents to keep weeds from germinating, as well as post-emergents to kill active weeds, will be applied at the proper time to give the most benefit in your fight against weeds. When you trust Land-Art for weed control in Maumee, you can expect:
A full inspection of your lawn to determine where weeds are growing.
Complete eradication of weeds around your property.
Follow up inspections if needed. 
Aeration and Overseeding in Maumee
Have you noticed an increase in water pooling after it rains or difficulty digging in your yard? Chances are your soil is compacted, which can impact the health of your grass. The experienced technicians at Land-Art can loosen your soil with aeration and then use overseeding to promote new grass growth. This leads to a healthier lawn that is more resistant to pests and diseases.
We offer traditional core aeration, which pulls plugs of soil and grass to the surface, and liquid aeration, in which a stream of water is used to create fractures in the soil. The advantages of liquid over mechanical aeration include:
The ability to treat your entire lawn versus only 25-30% of the surface area.
Elimination of the need to mark items such as sprinkler heads, invisible pet fences, and cable lines.
Deeper penetration into the soil of water, oxygen, and nutrients to grass roots.
Grub Control in Maumee
Most people cringe when they hear that they have a grub infestation and with good reason. It's because they know that these small c-shaped June bug larvae are your lawn's worst nightmare. Grass roots are their favorite food and they can quickly destroy your healthy turf. When you contact the professionals at Land-Art, our technicians will evaluate your lawn and apply grub killer to eliminate the ravenous pests.
Signs that you have a problem requiring grub control measures include:
Patches of brown and wilting grass.
The ability to roll up areas of your turf like a rug.
Animals such as moles, skunks, raccoons, and opossums showing an increased interest in digging up your yard looking for a grub feast.
Large numbers of birds pecking at the ground.
Tree and Shrub Care in Maumee
Your trees and shrubs do more than add beauty and personality to your landscaping. They also clean toxins from the air, provide shelter for wildlife, and protect your home from the summer heat with their shade. Normal lawn care alone is not enough to keep them healthy and disease-free. We have a 4-step tree and shrub care program that uses a foliar feeding method to spray fertilizers directly on plant leaves, resulting in quicker absorption. 
Each application supports your ornamentals through:
Pest and fungal disease control.
Specific fertilization, applied to your ornamentals and the growing season.
Optional deep root fertilization in the fall to support your trees and shrubs in year-round growth.
Mosquito Control in Maumee
We all know that mosquitoes can quickly ruin an outdoor party. In addition to the annoyance of itchy mosquito bites, they are carriers of many serious diseases that affect both humans and animals. Land-Art offers an effective and guaranteed mosquito control program that protects your property from mosquitoes, as well as spiders, stink bugs, fleas, and ticks. Scheduled retreatments in regular intervals from May through September ensures that you will be able to enjoy your property mosquito-free throughout the summer!
Looking for Lawn Care around Maumee?
We also offer lawn care services in Toledo, OH!