Image
Free Estimates on Expert Lawn Care in Columbus
Lawn Care in Columbus, OH
Are you looking for professional lawn care services in Columbus OH? Look no further than Land-Art! Our experienced team of lawn care experts has been providing top-quality lawn care for over 49 years. With our in-depth knowledge and expertise, we are here to help you achieve a beautiful and healthy lawn. At Land-Art, we offer a wide range of services to meet all your lawn care needs, including:
Aeration

Seeding

Grub control

Fungus control

Weed control

And more!
Our goal is to provide you with a hassle-free experience and a lawn that you can be proud of. Contact us today for reliable lawn care services in Columbus OH!
Get an Instant, Online Quote
Image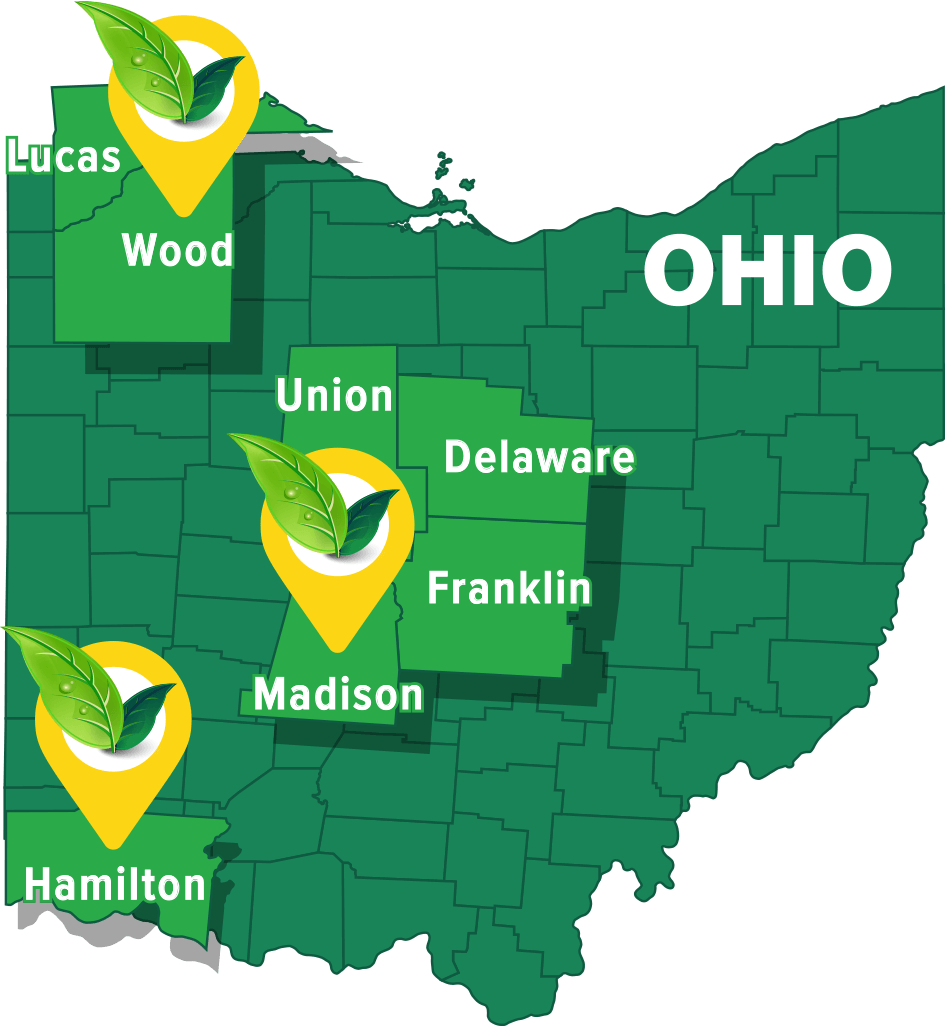 The Land Art Difference
Our flagship lawn care program in Columbus includes five applications total over the course of seven or eight weeks so your turf has the time it needs to respond to treatment. When you trust a lawn care company like Land-Art with your yard, you can expect:
Slow-release fertilizer

applied regularly to promote strong, vibrant grass.

Pre-emergent crabgrass control

in the springtime.

Weed control for broadleaf

throughout spring and summer.

Regular pest inspections

and treatments if necessary.

Winterization

that keeps your turf nourished until it re-emerges.

Add-on options

including grub control, aeration, overseeding, and fungicide.
Friendly Local Lawn Experts
Land-Art is a family-owned business, so we understand the trust you place in technicians that work around your home. All of our technicians are state certified and receive ongoing training throughout the year so that they are always up to date on the best practices. Over the years, we've built a reputation for consistent and friendly service.
Our knowledgeable team members are attentive to detail and will let you know if they notice any disease, pests, or problems during regular visits. Additionally, there's no extra charge for service visits to address your questions or concerns. Call Land-Art for lawn care in Columbus and they will treat your yard like they would treat their own.
Weed Control in Columbus, OH
When it comes to weed control services in Columbus, OH, Land-Art has you covered. With our efficient and targeted weed control methods, your lawn will be weed-free in no time. Our team of experts is well-equipped to tackle the toughest weeds that may be invading your lawn, including:
Sedge

Crabgrass

Dollar weed

Broadleaf

Spurge

Thistle

Clover

And more!
We understand the importance of maintaining a healthy and vibrant lawn, and our services are designed to achieve just that. Trust us to provide you with top-notch weed control solutions tailored to your specific needs. Contact Land-Art today to learn more about our expert weed control services in Columbus, OH.
Lawn Aeration in Columbus, OH
Are you looking to improve the health and appearance of your lawn? Our lawn aeration services in Columbus, OH, are just what you need! Land-Art offers two fantastic options for our customers - liquid aeration and core aeration. 
Liquid aeration -

involves using a high-quality liquid solution to break up compacted soil and allow air, water, and nutrients to reach the roots of your grass. 

Core aeration

- utilizes specialized machines to remove small plugs of soil from your lawn, effectively relieving soil compaction and promoting healthier root growth. 
Both options have their unique benefits and can significantly enhance the vitality of your turf. Whether you choose liquid aeration or core aeration, you can trust our team of experts to deliver the best lawn aeration services in Columbus, OH! Contact us today to schedule an appointment and give your lawn the care it deserves!
Outdoor Pest Control in Columbus, OH
Are you tired of pests ruining your outdoor experiences? Look no further! Land-Art provides reliable outdoor pest control services and is here to save the day. With our expert team of outdoor pest exterminators in Columbus, OH, we provide complete protection against a wide range of pests.
Say goodbye to common outdoor pests in Columbus, including:
Mosquitoes

Fleas & ticks 

Spiders

Stink bugs

Boxelder bugs

And more!
Our effective and safe treatments are designed to target these pests directly, keeping them away from your property. With our team's expertise in pest control and our dedication to customer satisfaction, you can have peace of mind knowing that your outdoor spaces will be free from pests and ready for you to enjoy. Contact us now to learn more about our outdoor pest control in Columbus, OH, and get rid of those unwanted visitors for good.
Satisfaction Guaranteed
At Land-Art, we put customer satisfaction first. Over the years, our technicians have developed a reputation for great relationships with our customers, and friendly dependable service at all times. Our technicians are happy to address your questions and concerns and there's no charge for service calls to do so. We believe that incredible lawn care in Toledo should be accessible to the whole neighborhood, so we don't complicate things with binding contracts. When you trust Land-Art with your property, our services are backed by a satisfaction guarantee straight from the lawn care company owners: if you're ever unsatisfied with our service, we'll make things right at no extra charge.